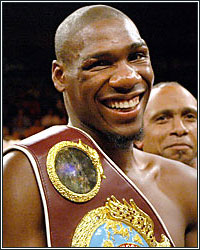 I had told everybody that would listen that Paul Williams was an exposed and damaged fighter who was looking for a way out heading into last weekend's controversial fight against undefeated Cuban Erislandy Lara. The attitude of the William's camp, even before Lara was announced as an opponent, was reason enough to pick against him. They seemed ignorant of the fact that Williams was knocked out by a fabulous puncher in Sergio Martinez, chalking up the traumatic episode as a lucky punch. That lucky punch not only landed several times before the final blow, but it landed over and over and over again in the fight with Lara, leaving Williams a bloody mess and, dare I say, in worse shape than he was after the Martinez fight.

While I agree that the commentary by Max Kellerman and Roy Jones, predicting deadly consequences for Williams, was a little much, I also agree that Williams, at 30 years of age, has had his heyday, has nothing left to offer the sport. For the sake of his well-being, perhaps he should retire immediately. Had he lost to Lara, Williams himself might agree with that statement and would like nothing more than to reminisce about his accomplishments while enjoying spending time with his family, but three judges at ringside thought otherwise and have put him in a terrible position.

With the hollow win, Williams will ultimately be convinced that he either had a bad night or just needs to stay away from southpaws. His seemingly shy and quiet personality that makes him reluctant to speak out at times will also prevent him from relieving George Peterson from his duties as manager and trainer, even though the general consensus in the industry is that he failed to not only train his fighter, but to protect him as well. Promoter Dan Goossen has no other marketable stars on his team, assuming Williams was ever considered marketable, and also doesn't seem to show the willingness to speak up for the better well-being for his fighter.

After the fight, someone commented to me about the sudden decline of Williams, stating that his style of fighting worked for 40 fights, but his book is out and everybody is going to read it. Stylistically, he's remained the same fighter in his victories against Antonio Margarito and Winky Wright as he was in the losses to Quintana and Martinez. Call it blind faith or just irresponsibility, but it never occurred to anybody that the kid was in sore need of some defense. Those cries were silent at the peak of his success and now, when he's at his lowest point, it seems like any change now would be considered too little, too late.

Simply put, Paul Williams needs to be protected from himself. His promoter and manager/trainer, who have been with him his entire career, have proven in their own ways that they cannot, or will not, encourage him to make the best choice and ultimately cut his losses and step away before he ends up having one fight too many. Lou DiBella and Bob Arum found two of their most popular fighters in Jermain Taylor and Erik Morales respectively pushing themselves past their best days and taking punishment more frequently then at any stage of their careers. When it became clear that they could no longer perform and their health was at stake, they made the decision for their fighter that their careers needed to end and they would not promote them any further. Both men gave up the opportunity to make a lot of money with the shell of a fighter they had in front of them.

So many writers and columnists have had their say about Williams over the past few days and have re-watched the fight for its controversial nature, which I understand in most cases. I cannot bring myself to watch the shell of Williams, who once bravely stood in front of such fighters as Antonio Margarito and Sergio Martinez, fail to even try to win the fight following the ninth round. Boxing is a cruel sport. Its nature is as barbaric as the promoters who fail to be human or the commissions who allow fighters to continue on. I just hope for Paul's sake that he can go out being remembered as "The Punisher" and not "The Punished."

(Danny Howard can be reached at dhoward@fighthype.com, Twitter @DBHoward126, and Facebook.)

Be sure to catch Howard and Vivek Wallace every Wednesday on FightHype Radio.