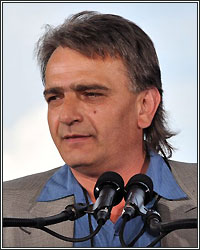 Earlier today, the internet was buzzing with news that Manny Pacquiao had fired long-time adviser Michael Koncz. According to a report by Manny Pinol of Philboxing.com, reliable sources informed him that Pacquiao had finally "dismissed Michael Koncz as his business advisor and manager of MP Promotions for a litany of missteps and blunders". Lem Satterfield of RingTV.com would later confirm the report as well, also citing a source in Pacquiao's camp. The shocking news prompted several reporters to reach out to Koncz throughout the day, but there was no official response from any member of Team Pacquiao late this evening. According to both Koncz and promoter Bob Arum, the news of his departure was nothing more than a rumor started by certain individuals who are jealous of his relationship with Pacquiao and gunning for his job.

"No, it's all bullshit. I know someone who has talked to Manny, and it's all nonsense. It's all a made up story. Up until a few hours ago, when I talked to [Filipino reporter] Ronnie Nathanielsz, who called me after he had dinner with Manny last night, I didn't know what to say. Now I do," Arum would explain to Lem Satterfield as he denied the very same report that Satterfield previously confirmed. While it seems odd that Arum would have to speak to a reporter, as opposed to Pacquiao himself, in order to figure out what was going on, he's confident that the news was nothing more than a rumor. "I know who started it, but I'm not going to tell you. I know why they started it. There are a lot of these people who are looking to get rid of Michael so that they can feather their own nest," Arum continued. "Ronnie Nathanielsz had dinner with Manny last night, and said that Manny laughed it off and laughed up a storm about it, so it's all baloney. Ronnie said that Manny called it 'a bunch of hooey.'"

Michael Koncz himself also denied the report, revealing that he had spoken directly with Pacquiao, albeit briefly, in order to clear up the confusion. "I called Manny and told him that the media is calling me and bombarding me with questions about my being fired," Koncz told Satterfield. "I told him that 'I want your permission to respond to them by saying that I personally spoke to you a few minutes ago and that the accusations and stories on the internet are totally untrue, and that I still work for you.' And he said, 'Yes, of course.' It was a very short conversation that took about a minute." Koncz would also echo Bob Arum's sentiment that he has an idea of who started the rumor. "I'm sure that I can speculate as to who the source is, and I'm sure that my speculation would be accurate, but, you know, the bottom line is that I do not care about the people who do this," he added.

So obviously, the big question now is, exactly who would want to make up a rumor of this magnitude, and more importantly, why? It's clear that both Arum and Koncz have their suspicions, and both men seem to think it's a simple matter of jealousy and envy.

Speaking to Rick Reeno of BoxingScene.com, Koncz would comment, "It's very simple, people try to put a wedge between Manny and I because I think they resent that Manny trusts someone not of his nationality as much as he trusts me, and secondly, they know that I watch very tightly everything around Manny, although Manny knows most of everything, to make sure that people don't take undue advantage of him. I think a lot of people resent that. It's harder for people now to take advantage of Manny for their own benefit and I think a lot of people resent that."

Bob Arum agreed with Koncz, taking it a step further. "If some of these people who are after Michael came in to replace him, it wouldn't work, because I'm not going to do anything -- particularly at my age -- to jeopardize myself by doing something that is not appropriate," he explained in the interview with Satterfield, making it clear that he has no intention of working with anyone other than Koncz. "I want to make sure that Manny gets every penny that he's entitled to, and the only way to make sure is to make sure that he has honest representation. Michael has demonstrated to me that he provides honest representation."

Interestingly enough, both Arum and Koncz emphasized the importance of making sure Manny Pacquiao is not being taken advantage of and that he's receiving every penny that he deserves; interesting because nobody has ever mentioned one word about money, and yet, both Arum and Koncz were quick to stress their desire to protect Pacquiao's financial interests. It's almost as if they went out of their way to make those statements, perhaps hoping to do damage control as if they were worried about something. Well, sure enough, sources in the United States and in the Philippines have revealed to FightHype that money is the very crux of the problem.

Evidently, over the past year, there's been a number of questions raised by close representatives of Pacquiao regarding his finances. One source in particular questioned the relationship between Top Rank Promotions and Michael Koncz, suggesting that Koncz may have been paid a hefty fee by the promotional company to maintain control of his boxing career and, more importantly, a number of business dealings, namely his sponsorship deals. Another source raised serious concerns that Pacquiao was not being paid the full amount of money he was being promised by Bob Arum in a number of fights. Whether or not any of those claims are true remains to be seen, however, FightHype has learned that individuals have indeed been closely monitoring Pacquiao's finances and gathering evidence over the past year to present to the Filipino superstar. One can assume that those individuals are the same people who Bob Arum is referring to and all of this is related to the news about Koncz being fired.

At this point, it's unclear if this is truly the end of the "rumors" regarding the firing of Michael Koncz, so stay tuned for future updates.
[ Follow Ben Thompson on Twitter @fighthype ]