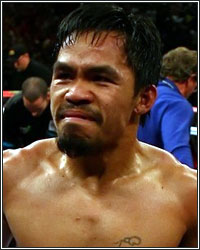 Yesterday's news that VisionQwest Resource Group would now be handling all accounting and contract reviews for Manny Pacquiao may have come as a surpise to many, but the company has actually been working with the pound-for-pound champion for quite some time now. Back in December of 2010, VisionQwest Global Group, a division of VisionQwest Resource Group, Inc., began working with the eight-divison world champion in order to secure endorsement deals in both the United States and in other global venues. According to a source with knowledge of the company's relationship with Pacquiao, however, even before that time, an investigation into his financial affairs had already began. "The decision to have VisionQwest handle Manny's matters was not spur of the moment. It was based on solid, concrete paperwork that was submitted by Manny himiself," the source explained. Evidently, after nearly a year-long investigation, information has come back that has prompted Pacquiao to take a much closer look at individuals who were previously involved in his business dealings, namely his long-time adviser, Michael Koncz.

"Their investigation is still ongoing, and it will be for quite some time, but it looks like there were deals being made and money being paid behind Manny's back," the source continued. "Based on all the evidence turned in, it was determined that Michael Koncz has received a substantial amount of unauthorized money. That's the reason why he is being relieved of his role as Manny's representative to Top Rank." According to another source, that might explain why Koncz himself previously tried to hire an entirely different accounting firm for Pacquiao at one point. "He actually tried to hire another accounting company. Michael has been trying to get them out of the picture, VisionQwest, for a long time," the source revealed.

Whether or not any of this evidence actually points to impropriety remains to be seen, however, it's clear that Manny Pacquiao is taking a much closer look at everyone involved in both his boxing career and his business ventures, especially if his net worth is a mere (PLEASE note the sarcasm) $26 million, as pointed out in an article by Paul Magno of The Boxing Tribune. While that's still a considerable amount of money, with another multi-million dollar payday on the horizon, perhaps now more than ever is a good time for the Congressman of Sarangani to start counting his pennies after having already earned more than $80 milllion in purses.

Michael Koncz is slated to meet with Pacquiao any day now regarding the November 12th fight with Juan Manuel Marquez. Although Pacquiao himself has confirmed that the long-time adviser has not been fired from the team, it's unclear as to what kind of role he will play now that VisionQwest will be much more involved in reviewing contracts. An extremely close friend of Pacquiao, or a "FOP" as one fight scribe would call him, commented, "Mike was trusted and he is a despicable human being."

It should be interesting to see how this all plays out over the coming weeks.
[ Follow Ben Thompson on Twitter @fighthype ]