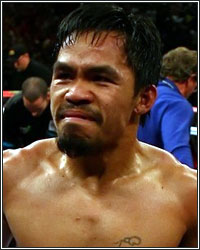 Last week, Michael Koncz had a meeting with pound-for-pound champion Manny Pacquiao to discuss his role as "adviser" after reports surfaced all over the internet that he was either fired or demoted. Shortly after both he and Pacquiao left a basketball exhibition between the NBA All Stars and the Smart Gilas Philippine national team last Tuesday, Pacquiao cleared the air regarding those reports, simply stating, "See, he's here. No problem." In order to get everyone on the same page, Koncz would later tell reporter Ronnie Nathanielsz that he planned on having "a little meeting" with Pacquiao and "the people who are making allegations", namely Timothy James [Sladeck], operator of Manny Pacquiao's official website MP8.ph, who first reported that Pacquiao was making some decisions regarding his team and that some of Koncz's reponsibilities had indeed changed. Apparently, that meeting between Koncz, James and Pacquiao did in fact take place and the outcome of their sitdown sheds a little more insight into what's been going on behind the scenes with Pacquiao's decision to bring in VisionQwest to strengthen the overall peformance of his team.

It's no secret that James has been very critical of Koncz's business decisions in the past. In a video interview posted nearly a week prior to Pacquiao clearing the air, James said of Koncz, "I'm a firm believe that he's a better gopher than he is a business man. I'm the loudest one to say that because of the money that's involved with Top Rank, the money that's involved with pay-per-views, the money that's involved with the gate, you know, obviously, in my opinion, there should be an actual accounting force that looks over that money, that makes sure every penny is being paid correctly." He continued, "Does Michael Koncz have those abilities? I don't think so personally. Absolutely not. I don't have those abilities. Not many people do. That's something that you go to school for, that you become educated for, that you have experience for; that's actually a team of people that do it, so I would make arguments towards that."

Following that interview, Michael Marley of Examiner.com began a smear campaign that I can personally confirm was spearheaded by Michael Koncz himself (and should Koncz deny it, I welcome the opportunity to speak more in-depth about what I know). Armed with misleading information that originated from Koncz, Marley wrote a series of articles that were intended to discredit James as well as Pacquiao's official website. He would first write an article suggesting that not only did the email, allegedly sent to Team Mayweather from a member of Team Pacquiao, actually exist, but he knew exactly who sent it. Although he did not reveal the name, saying instead that he would give that information in a later article (which his readers are still waiting for), it was obvious to this writer that he was suggesting it was James, as Marley would later brag to another "writer" that he was going to "emphasize the steroid part" due to some "circumstantial evidence" he had. [EDITOR'S NOTE: Clearly this article struck a nerve with someone, as the original YouTube recording of Marley's conversation has been removed. HOWEVER, fortunately, we saved a copy of it and archived here at FightHype for your listening pleasure.]

Following that story, Marley continued to write articles taking not-so-subtle jabs at James, continuously discussing a prior stint in prison, questioning the validity of MP8.ph as being Pacquiao's official website, and ultimately ending with a report alleging that James was attempting to secure money behind Pacquiao's back. For some reason, however, that last report was removed, likely due to the fact that I can prove without a shadow of a doubt that the misleading information that Marley wrote about originated from Koncz.

After a week of being forced to defend himself from allegations made by a small group of writers led by Koncz, James would then be forced to deal with Pacquiao's official website being shut down due to a denial-of-service attack from a group of unknown hackers. After days had gone by, many assumed that it was Koncz who had gotten the upper hand when it appeared as though the website was not coming back. Of course, that was until MP8.ph was back up and running again and James and his team continued with their daily behind-the-scenes video coverage of Manny Pacquiao's life outside the ring.

So what, then, was the actual outcome of the meeting between Koncz, Pacquiao and James?

Earlier today, a new video appeared on MP8.ph featuring none other than Michael Koncz himself discussing the upcoming third bout between Pacquiao and Juan Manuel Marquez. In the video, Koncz revealed that he was the one responsible for postponing the third bout with Marquez until now. "I was one that postponed this fight, or suggested to Manny that we hold off on this fight for awhile because there's the old saying that styles make fights, but then also styles break fights. My opinion, for some reason, Marquez has Manny figured out," he commented as he shared his thoughts on the outcome of the fight. Perhaps more interesting, however, is the manner in which the video ended, where Koncz, with a smirk on his face, commented, "I just want to thank everybody for supporting and ask that all the fans continue to support MP8.ph."

Say what? Michael Koncz giving a shout out to MP8.ph? Although it's unclear as to exactly what took place during the meeting between Koncz, Pacquiao, and James, it looks like the misunderstanding between both parties is over, at least for now, as Koncz is making it clear that MP8.ph is indeed the official website of Manny Pacquiao. What that means as far as his actual role as "adviser" remains to be seen, however, given the fact that it was Koncz who orchestrated the campaign to discredit James and MP8.ph, my guess is that somehow, Manny Pacquiao found out and was not too pleased with his actions. During my own conversation with Koncz several weeks ago, he made it clear to me that he did not plug any websites, including Pacquiao's, particularly since, in his opinion, the website "is gonna be a failure." Evidently, either Koncz had a change of heart, or somebody told him he better change his attitude and get with the program. My guess is that it was the latter and, more than likely, those instructions were probably given during their private meeting. It should be interesting to see how Koncz's relationship with other members of Team Pacquiao continues moving forward.

While this may not be news to some of you, it should be noted that, in this day and age of blogs, social networks, and pay-per-click websites, not everything is exactly what it appears to be when it comes to information that's being presented by certain individuals. Be careful of who you choose to believe when it comes to reports and be mindful that some information is indeed being put out there by individuals looking to spin a story in their favor.
[ Follow Ben Thompson on Twitter @fighthype ]