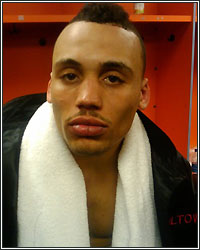 Fists were flying all over the place when a fight broke out between the camps of Vernon Paris and Tim Coleman moments ago in the lobby of the Chumash Casino. Police were quickly called in to settle the matter as Coleman and Paris, along with members of their entourage, were escorted from the casino. It's no secret that Paris and Coleman dislike each other as the bad blood between the two has raged on for quite some time now on Facebook. Not long after Paris made some derogatory comments in a FightHype interview earlier this week, Coleman responded with his own harsh statements, making it much more personal than ever before. Both fighters are set to face off in the main event of ESPN's Friday Night Fights tomorrow evening. Security has already been beefed tremendously for their weigh-in, which is set to take place any minute now.

According to Paris, he spotted Coleman in the lobby of the casino, approached him, with an entourage of about 20 deep, and said, "Hey nigga, tomorrow we're gonna get that shit off our chests." At which point, Coleman responded with some comments that, evidently, members of Vernon's entourage did not appreciate. As members of both camps starting going back and forth with each other, seconds later, an all-out brawl erupted. Although Paris and Coleman went unscathed, several other people involved in the brawl were banged up before police could bring an end to it.

"I'm come from the hood. I'm built for this shit; he's not. Nigga, I can tell you I ain't never seen this many cops in one place at one time. No lie Percy, they got about 1000 cops here. They got added security at the weigh-in and we're just basically stepping on the scale and getting off. The fight is on," Paris commented when asked if the encounter had jeopardized the showdown between the two jr. welterweights.

"His fucking manager and all of them are internet thugs. They Facebook thugs and internet thugs because this motherfucker ain't come to the press conference and wasn't going to come to the weigh-in, we found out. He was just going to show up at the fight so he didn't have to deal with us," Paris continued. "I gotta give Tim Coleman props though; the best career move he ever made in boxing was not coming to Detroit because he wouldn't have made it out that bitch. Dog, I got so much respect in Detroit, if I move, everybody moves. He wouldn't have made it out of Detroit, so the best thing he could have done was pull out of that fight that we had scheduled for Detroit."

Needless to say, you DO NOT want to miss tomorrow night's clash between Paris and Coleman on ESPN's Friday Night Fights.
[ Follow Percy Crawford on Twitter @MrLouis1ana ]