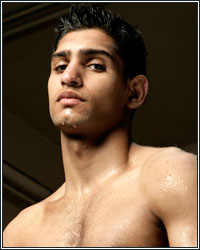 From great fights to shocking announcements and rising stars, boxing has definitely seen an upswing as of late. Now that we got the Bob and Weave Awards out of the way, it's time to get straight to the good stuff and honor the events and people that have made 2011 a memorable year thus far in our fine sport. Be sure to check out last week's piece to get up to speed and let me know what you think. Now on to the good stuff!

BEST FIGHT: Marcos Maidana vs. Erik Morales
Going into this match-up, many thought that Erik Morales was not only going to lose, but suffer irreversible damage at the hands of the brutal punching Marcos Maidana, who only a few months prior nearly decapitated Amir Khan in another fantastic fight. What instead happened was an old champion fighting like he should against a younger man, using his skill and talent more than his guts, and as a result, we got 12 rounds of sustained action and suspense from beginning to end. Once the fight was over and these two men were beaten and battered, we all wanted to see both fighters in the ring again in some form or another. It elevated both fighters and, thus far, has been the best fight of 2011.

Also Nominated:


Pawel Wolak vs. Delvin Rodriguez
A brutal slugfest that may be the start of a beautiful rivalry.


Carl Froch vs. Glen Johnson
Froch outlasts Johnson in a tremendous fight ahead of his showdown with Andre Ward.


Brandon Rios vs. Miguel Acosta
Though being punished in the early rounds, Rios weathered the storm and rallied back to stop Acosta in a fantastic fight.

BEST FIGHTER: Amir Khan
This may come as a shock to some who have read my material in the past, but my dislike for Khan isn't going to cloud my opinion of what he has accomplished through the first half of the year. So far this year, Khan has faced a pasty and dangerous veteran, didn't lost a single round, and added another title to his collection for his trouble. On top of that, he may yet fight again this Winter. Say what you will about Khan, but nobody is being talked about more in the sport of boxing right now, and for good reason. Khan is for real.
Also Nominated:
Brandon Rios
Rios went from contender to feared champion in two very exciting fights this year.


Orlando Salido
The former champion knocked out Juan Manuel Lopez in his backyard and looked ferocious in his follow-up effort in the summer.


Nonito Donaire
Facing off against the best opponent of his career, Donaire won in sensational fashion, making him one of the most dangerous fighters at Bantamweight.

BEST UPSET: Orlando Salido TKO8 Juan Manuel Lopez
Bob Arum was hoping that Lopez would easily dismantle former champion Salido to add another layer of intrigue to the already overdue showdown between Lopez and Yuriorkis Gamboa, going as far as to make the Mexican Salido fight in Lopez's home country of Puerto Rico. Salido, who lost to Gamboa last year, was in supreme condition and knocked Lopez down with a hard right hand that the champion never recovered, stopping him two rounds later. With the win, Salido derailed one of the most anticipated fights in boxing and re-established himself as a champion at Featherweight.
Also Nominated:
Nobuhiro Ishida KO1 James Kirkland
Light-hitting Ishida crushed Kirkland's Fall shot against Sergio Martinez.


Grady Brewer TKO4 Fernando Guerrero
An ill-advised move to 154 turned into disaster for undefeated Guerrero at the hands of the former "Contender" winner.


Victor Ortiz UD12 Andre Berto
Many thought Berto would wipe out a heartless Ortiz in a few rounds, but instead, it was Ortiz who took Berto apart and won the title.

BEST MOMENT: HBO Sports President Ross Greenburg getting ousted.
HBO has been the face of boxing on television for nearly 40 years and Greenburg has been in the drivers seat for almost all that time, but a combination of favoritism with certain promoters and managers, along with the decreasing quality of fights, ended his tenure with the company. As Showtime and ESPN have upped the game with a fraction of HBOs monster budget, it may seem that HBO is on the verge of losing its place as the premiere boxing network. Greenburg's departure signifies that. Just the sheer magnitude of this event and how it affects the sport makes this the most single important event of the year.
Also Nominated:
Pacquiao vs. Mosley goes to Showtime PPV.
HBO loses one of the biggest fights of the year to rival network.


The media frenzy of Klitschko vs. Haye.
The long-dead Heavyweight division captivates the world once more with this heavily anticipated dud of a fight.


Floyd Mayweather announces his return.
Mayweather's return sends the industry into a frenzy and revives the possibility of a match with Pacquiao in 2012.

That does it people. If you agree, disagree, or have any kind of opinion, feel free to contact me with the information below. See you next week!
Danny Howard can be reached via e-mail (
dhoward@fighthype.com
), Twitter (@DBHoward126), and is looking for friends on Facebook.