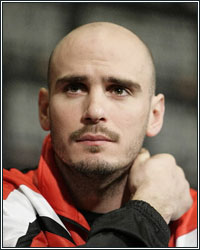 Kelly Pavlik's decision to withdraw from his scheduled fight tonight took the boxing world by surprise. On the surface, it seemed like nothing more than another setback, given his troubled past, but when you look deeper into Pavlik's psyche, perhaps his reasoning is entirely rational after all. On Tuesday, Top Rank released a statement saying they were "very disappointed at Kelly's sudden decision to discontinue the rebuilding of his boxing career." The statement made Top Rank look like they were shocked by Pavlik's decision, and maybe they were. Promoter Bob Arum also expressed concern to several different media outlets, leading many to believe that Pavlik might still be dealing with alcohol problems. That was until Pavlik fired back on Wednesday with his reasoning for the cancellation.

Speaking to boxing writer Alec Kohut, Pavlik stated that Top Rank and Cameron Dunkin (Pavlik's manager) were at fault for the situation. "If they would've told me two weeks ago and three weeks ago the amount of money and what they're paying me, then I would've said, 'You know what, I'm going to cancel the fight.' But you're going to let me know a week before because what they're thinking is, 'We'll tell him a week before and there's nothing he'll do about it. He won't cancel the fight.' Well bullshit. I call bullshit on that. I will cancel the fight and I'm going to leave it up to Top Rank to come out and make a clear statement. You're going to pay me $275,000 to fight [Alfonso] Lopez after a 13-month layoff, then turn back around and tell me you're going to fight in Youngstown for $50,000? Come on."

While it may be hard to believe that Pavlik had no idea the amount of money he would be making for the Cunningham fight, it certainly wouldn't be the first time a fighter has been led astray by his promotional company. Just remember, there is a reason Mike Tyson had such animosity towards Don King. There's also a reason why both Oscar De La Hoya and Floyd Mayweather chose to leave Top Rank. Bob Arum is not exactly known as the most honest man in boxing. Show me one promoter who is 100% honest, and I'll show you proof of who shot JFK.

Pavlik also went on to say his contract is up in a year and he is more than willing to sit out. "I don't want to, by no means do I want to sit, but if that's what they're going to do, that's what they're going to do. There's nothing I can do about it," continued Pavlik. I do not know Pavlik's contractual situation and what obligations, if any, he must fulfill before he can sign with another organization, but let's take a look at this issue from both sides of the table.

Top Rank is trying to rebuild a superstar fighter's image by giving him a tune-up fight before paying him seven figures to face Lucain Bute, most likely in Bute's home country Canada, for a world title. The fight would certainly generate millions for all parties involved and create widespread interest among boxing fans worldwide. A win for Pavlik would only setup bigger and better things for much more cash. Top Rank looks at this as a way for Pavlik to prove two things:

1) He is back to championship form
2) He is over his personal problems

Each of these circumstances makes Kelly Pavlik and Top Rank look great in the media. The small town kid came up, fought off personal demons, and rose up yet again. It's the perfect made-for-TV movie. But Pavlik would have to take a little less money now to prove his worth for the ultimate reward later.

From Pavlik's perspective, he is a superstar. No one can question the star power Kelly Pavlik brings to the ring every time he fights. He is a crowd-pleasing fighter, a fan favorite, and a promotional team's dream. Unfortunately, I must play the race card in this situation because part of Pavlik's appeal is that he's someone "Caucasian" boxing fans are proud of in a sport mostly dominated by African-American and foreign fighters. His nickname "The Ghost" speaks volumes of the way he is perceived. This is an unfortunate truth in America, but it is a truth nonetheless. Kelly Pavlik is an excellent fighter and deserves the notoriety he receives, but the mainstream media fell in love with him so quickly because he is white (I myself am 50/50, White/Hispanic, for anyone who questions my bias on this issue). Pavlik brings in crowds, money, and ratings. It is understandable how he can look at $50,000 and think he is being short-changed, especially considering that he was already paid $250,000 for his previous fight, his first one back after a stint in rehab.

Look at the actions by fighters such as Floyd Mayweather, Tim Bradley, and David Haye. Each is willing to fight, but only if the price is right. Even Manny Pacquiao has started to wise up and take a closer look to see if Top Rank has been penny-pinching their prized possession. In the age of free agency, lockouts, and future health problems, boxers, of all athletes, should be the ones to make sure they receive every cent they can. Combat sports are the only sport where athletes are truly putting their lives on the line every second of the action. Can you really blame Pavlik for feeling undervalued?

What do you think? Should Pavlik be appreciative of being given a second chance by the sport of boxing and prove to the world he is back, or should he hold out and force Top Rank to pay him what he feels he is worth?

Send comments/questions to dkassel@fighthype.com.

Be sure to follow The Boxing Observer on Twitter @BoxingObserver, "Like" The Boxing Observer on Facebook, or visit my personal blog at http://boxingobservers.blogspot.com/.
[ Follow David Kassel on Twitter @BoxingObserver ]