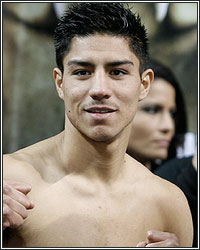 Forget all the talk about a future showdown between undefeated pound-for-pound champion Floyd Mayweather and jr. welterweight king Amir Khan. Evidently, Mayweather is much more interested in Khan facing his own fighter, undefeated jr. welterweight contender Jessie Vargas. "Jessie Vargas wants to know why Amir Khan is ducking and dodging," stated Mayweather in a recent interview with FightHype's own Ben Thompson. Rumors have been running rampant that Khan could be next in line to face Mayweather assuming all goes well on September 17 and a bout with Manny Pacquiao does not come to fruition. Clearly, Mayweather has a different opinion about what the future holds for Khan.

"Yeah. He's asking for him. Everybody is ducking and dodging him. He's my fighter and he wants him," Mayweather reiterated, making a pitch for Vargas to be Khan's next opponent. Although the undefeated Vargas only has 16 fights under his belt, Mayweather strongly believes that he's prepared to take the titles from the WBA and IBF champion. When Mayweather was told that Khan was hoping to secure a future showdown with him, he quickly replied, "He don't really want that; not selling 2500 tickets and having a bunch of giveaways. No, he don't want that."

Vargas is currently slated to face Josesito Lopez, currently ranked #5 and #6 in the WBA and IBF respectively, on the undercard of Mayweather's September 17 return to the ring. Althought an impressive showing against Lopez will get Vargas closer to a title fight, it's doubtful that Golden Boy Promotions would be willing to put their champion in the ring against a fighter who offers low reward.