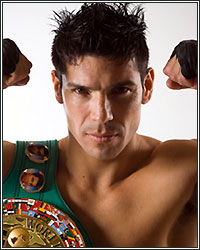 Middleweight king Sergio Martinez is joining the ranks of the "Take The Tests" campaign. In late 2009, undefeated pound-for-pound champion Floyd Mayweather began the "Take The Tests" campaign when he declared that both he and any opponent that he faces must subject themselves to random Olympic-style blood and urine tests prior to stepping into the ring. Since then, a number of boxing insiders have shared their opinion about the use of performance-enhancing drugs, shedding light on the subject and sparking debate on whether or not there's a need for more stringent testing in the sport. As time goes on, more and more fighters are voicing their concerns about an even playing field and joining the ranks of those who support the "Take The Tests" campaign. Like several other fighters, Martinez thinks the idea will keep the sport clean and eliminate any doubt that the best man has truly won.

"I don't see what the big deal is. First of all, I would be willing to take the tests or do whatever is necessary to fight Floyd Mayweather, if that's the case. Secondly, I don't see what the big deal is," Martinez stated in a recent interview with FightHype's own Percy Crawford. "I think it keeps the sport clean and keeps the sport without any doubt for any fighter if someone is saying, 'Hey, this guy looks a little stronger then he should be.' That will eliminate that and prove that the best man will win."

Although currently, Floyd Mayweather is the only fighter who is actively enforcing the policy, Martinez now joins a growing list of fighters who have either already participated in or embraced the use of random Olympic-style blood and urine tests, including super middleweight champion Andre Ward, former light heavyweight champion Jean Pascal, former welterweight champion Shane Mosley, WBC welterweight champion Victor Ortiz, and jr. welterweight champion Paulie Malignaggi to name a few.