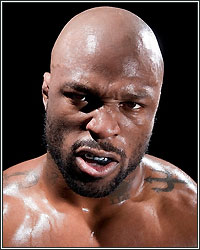 After a long hiatus, former Strikeforce light heavyweight champion King Mo Lawal is finally back on Twitter, but he's still hosting a mailbag on FightHype.com to stay in touch with fans and answer any and all questions related to himself, mixed martial arts, boxing, or just about anything. Send an email to King Mo at kingmo@fighthype.com and maybe next week, you too can see your questions and Lawal's responses in Mo's Midweek Grind. Check out what fans were asking and what King Mo had to say in this week's mailbag as he touches on Fedor Emelianenko, Dan Henderson, Andre Ward, his upcoming fight, and much more.


---
Hey King, your thoughts on MMA journalists thrashing Fedor's legacy and questioning his greatness? DF
King Mo: They are idiots, plain and simple! After Ali lost to Berbick, did that mean his legacy was a joke?
Alright Mo, let me see where ya head at. Give me your best ring entrances during any era in wrestling. My two are "The Road Warriors" and "New Jack" from ECW! Who u got bro? Hammer
King Mo: Say Hammer, I got Harlem Heat and the Steiner Brothers.
First and foremost, good luck against Gracie in September. When they showed your face on the TV you were looking up and back as if you thought someone else was being shown. Were you getting booed or simply had no idea the cameras were on you? I don't understand why you get so much hate…easily the realist in the game. I guess people don't like real anymore. Thanks for always answering my questions. Rez
King Mo: Thanks Rez. Fuck them muthafuckaz that boo me! They want a fake muthafucka to be in the light. That ain't me.
Hey King, How do you see the Andre Ward/Carl Froch fight playing out? Sorry if you have answered this, this is my first time sending in a question. Peace Al
King Mo: Good question. I think Ward roughs him up in a very ugly fight and wins a decision.
Hey mayne it was cool meeting you in Chicago. The thing that was funny to me is I heard mad fans talking shit about you right after they took a picture with you. I know its tough to say no to fans, but is there a way to weave thru the phony or do they all come off as genuine fans when they approach for pictures/autographs? Stay real Mo. JD
King Mo: JD, it's like this; it's to the point where if I ain't feelin' someone or some people, I ain't signin' shit or takin' pictures no more. If they gonna hate me, I'ma give 'em a real reason to. LOL. I can't tell who the real fans are until they conversate with me. That's how I find out.
WASSUP MY MAN. YOU SEEM TO HAVE THE PERSONALITY TO FALL INTO SEVERAL DIFFERENT COMMIDITIES. WHAT WOULD YOU LIKE TO DO ONCE YOUR FIGHTING CAREER IS OVER WITH MO? JUST CURIOUS BECAUSE YOU HAVE PERSONALITY. THANKS CHAMP-MARK FRITZ
King Mo: I really ain't thought about it much. We'll see what happens when I'm done with MMA.
Hendo has amazing power in his hands, but he tends to get wild from time to time and will also abandon his wrestling as well. How would you approach a fight with Hendo and avoid that right hand? I would love to see that fight. Thanks for these mailbags. I have always read them and decided to send in a question. I appreciate ur time. Maze
King Mo: Maze, I would make Hendo fight my fight. I would keep him guessing with my hands or takedowns. I wouldn't worry about his clinch or his hands. With good lateral motion, you can give him a lot of problems.
Hey man great is great. Fedor is still great in my opinion, what you think about the way these fans quickly forget that the man had 28 straight wins because he's dropped 3 consecutive. Janet Jackson said it best, "What have you done for me lately." That's how these cats think. Fedor will always be considered great in my book. Your thoughts champ? Mike
King Mo: Fans have short attention spans. I think Fedor is one of the greatest ever. I thought his inactivity would lead to his downfall though.
Hey King, where do you rank Fedor all time and as a heavyweight? His greatness is being swept under the rug in my opinion.
King Mo: I got him number one in my book. He is legit, but if Cain Velasquez can do the same thing, he will be the new all-time number 1 instead.
Hey Mo, U are an outspoken dude and it appears if you don't walk a straight line under the Zuffa banner they will drop the hammer. With that being said, will you do less interviews/Q&A'S or can we expect the same outspoken King Mo Lawal? Thanks in advance. Big Gene
King Mo: I ain't changin' shit! LOL. Why should I? I'ma be me.
I wanted to get your thought on the release of Fedor and the Golden Glory camp? I definitely didn't think Marlos deserved to go out like that. Your thoughts champ?
King Mo: It's business, bro. I don't know all the deep details, but hopefully they all won't be permenant.
King Mo: Next week, y'all tune in to the "Kick it with Gerald Harris and King Mo" Sweepstakes. A lucky fan will get a chance to kick it with us for a few days. Details will becoming soon.
The Functional Core Fitness Challenge!
Follow on twitter @Funcionalcore

http://www.youtube.com/user/FunctionalCorefitnss#p/u/8/11gYTPKF7fg