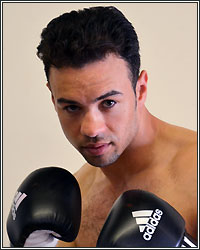 FightHype.com brings you closer to the fighters with this unique series. Go beyond the hype to find out what makes your favorite fighters tick. From favorite movies, music and shows to childhood heroes, you'll get an inside look at their life outside of the ring/cage. So without further ado, get to know jr. middleweight contender Delvin Rodriguez.

NAME: DELVIN RODRIGUEZ

JR. MIDDLEWEIGHT CONTENDER


---

Favorite movie(s)?

Terminator

Favorite TV show(s)?

Everybody Loves Raymond

Musical taste?

Bachata Y Merengue

First job?

McDonald's

First car?

Toyota Supra

If you weren't a fighter, what would you be doing?

I'd be a musician.

Favorite animal?

Dog

Favorite food/meal?

My mom's rice and beans.

Favorite junk food?

Taco Bell

Hobbies/Interests?

I enjoy playing the guitar.

Childhood hero(es)?

My uncle.

Favorite fight(s)?

Holyfield vs. Bowe

Favorite fighter(s) to watch?

"The Golden Boy" Oscar De La Hoya

Pre-fight ritual?

I pray to God to give me strength, and I open up my mind.

If you could fight anyone in time, who would it be?

Floyd Mayweather Jr.

If you were a superhero, which one would you be?

Professor Charles from X-Men

Celebrity crush?

Amelia Vega

Greatest moment?

When my mom went back to the Dominican Republic to bring me and my sister back, and when my son was born.

Most painful moment?

Waiting for my mom to come get me and my sister from the Dominican Republic as a child.

Most embarrassing moment?

Getting in trouble in school for walking out of class without permission to go to the bathroom. I didn't speak English; wet my pants.

Bonus: Name something that most people don't know about you?

I'm a sentimental guy who likes to write Spanish love songs.