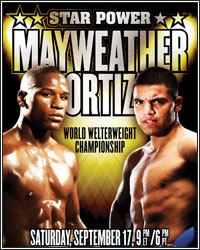 In a blockbuster night of boxing, undefeated Six-Time World Champion Floyd "Money" Mayweatherwill face-off againstcurrent WBC Welterweight World Champion "Vicious" Victor Ortiz in the big screen event, Star Power: Mayweather vs. Ortiz Fight Live on Saturday, September 17 at 9:00 p.m. Eastern / 6:00 p.m. Pacific. Broadcast in high definitionfrom the MGM Grand in Las Vegas to more than 380 movie theaters nationwide, this sensational welterweight showdown will give fans a ringside seat to see boxing's biggest star against the sport's newest star in one ring.

Also taking place on Mexican Independence Day Weekend, Star Power: Mayweather vs. Ortiz Fight Live will feature a second main event from STAPLES Center in Los Angeles with rising Mexican superstar Canelo Alvarez defending his WBC super welterweight championship title against former star of "The Contender,"Alfonso Gomez. In an exciting under card bout, Three-Division World Champion and future Hall of Famer Erik "El Terrible" Morales will attempt to become the first Mexican to win title in four weight divisions when he faces power punching Argentine Lucas Matthyssefor the vacant WBC super lightweight championship from the MGM Grand.

Tickets for Star Power: Mayweather vs. Ortiz Fight Live are available at participating theater box offices and online at www.FathomEvents.com. For a complete list of theater locations and prices, visit the NCM Fathom website (theaters and participants are subject to change).

Presented by NCM Fathom, Mayweather Promotions and Golden Boy Promotions, Star Power: Mayweather vs. Ortiz Fight Live is the latestboxing event to be broadcast to select movie theaters across the country through NCM's exclusive Digital Broadcast Network- North America's largest cinema broadcast network. Fathom, Mayweather Promotions and Golden Boy Promotions first teamed up for the highly successful cinema presentation of the Mayweather vs. Juan Manuel "Dinamita" Marquez fight in September 2009. Fathom and Golden Boy also presented live boxing on the big screen in high definition in 2010 with four boxing matches including Mosley vs. Mora LIVEin HD last Mexican Independence Day.

"If there's one thing people know about me, it's how much I enjoy performing on a big stage and in this case, the big screen," said Mayweather. "Fans in the theaters can expect a great night of boxing from me and the rest of the stars on the show that night, but I have no doubt that my star will shine the brightest."

Mayweather (41-0, 25 KO's) remains boxing's biggest attraction, wowing crowds andgenerating record pay-per-view numbers each time he steps into the ring. In his last ringappearance on May 1, 2010, Mayweather dismantled Sugar Shane Mosley in a lopsidedunanimous decision victory. Mayweather is no stranger to fighting on Mexican Independence Day weekend, as prior to his sensational win over Mosley, he took on Mexican boxing star Juan Manuel Marquez on September 19, 2009, beating his opponent in spectacular fashion.

"Watching the fight on the big screen in movie theaters across the country is a fantastic way to experience a mega-fight like Mayweather vs. Ortiz, Canelovs. Gomez and Morales vs. Matthysse, all on Mexican Independence Day weekend," said Richard Schaefer, CEO Golden Boy Promotions. "It is great to work with NCM Fathom again to bring championship boxing to the big screen in an unparalleled level of entertainment."

Victor Ortiz (29-2-2, 22 KO's) is on fire. He is riding a six-fight undefeated streak including hissensational title capturing win over Andre Berto on April 16 of this year. The hard-punching southpaw proved himself throughout their 12-round battle when he survived a knock down in the sixth round and came back to drop Berto at the end of the sameround in one of the most exciting fights in boxing this year.

"Since boxing made its exciting return to movie theaters in 2009, Fathom has put fans front and center to experience every punch and jab at their local movie theaters," said Dan Diamond, vice president of Fathom. "This big screen fight brings Mayweather back to the ring in what promises to be one of boxing's most memorable matches of 2011."