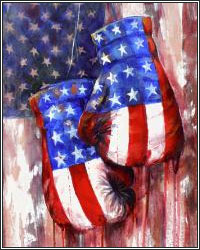 There are many great fighters in the world right now. Unlike the early part of the 20th century, the best boxers in the world no longer all come from the United States. With that being said, America is still a force to be reckoned with in the sport. Here's a look at my current Top 10 American-born boxers.

10. Brandon Rios (28-0-1 21 KO's)
"Bam Bam" is a 25-year-old free spirit with a big personality and even bigger potential. His knockout wins over Miguel Acosta and Urbano Antillon, in addition to his cameos as Antontio Margarito's sparring partner on 24/7 (Pacquiao/Margarito), have placed Rios in the American spotlight. He is still young and vulnerable, but the Oxnard, California resident has shown no signs of slowing down and no signs of backing down from a fight.

9. Victor Ortiz (29-2-2 22 KO's)
Ortiz has rebounded nicely since his embarrassing knockout loss against Marcos Maidana. An upset win over Floyd Mayweather in September would immediately bump Ortiz from "star" to "superstar" in one night. He is a fan-friendly fighter and clearly a big enough name for Mayweather to risk his undefeated record against. All "Vicious" Victor needs is to knock off "Money" in front of millions on pay-per-view.

8. Antonio Tarver (29-6 20 KO's)
The 42-year-old "Magic Man" is still at the top of his game after traveling to Australia and knocking out Danny Green to win the IBO cruiserweight title. Tarver has been in the ring with the best and still has some juice left after stints at light heavyweight, cruiserweight, and one successful venture to heavyweight. He is hoping to land at least one more big fight before he hangs up the gloves.

7. Steve Cunningham (24-2 12 KO's)
Cunningham is universally regarded as the #1 cruiserweight in the world right now. Only hardcore boxing fans truly know who Cunningham is and that is a shame. The cruiserweight division's best talent seems to be across the pond in Europe, and Cunningham has only fought one time in each of the last four years. With the top two cruiserweights in the world now residing in the U.S., let's hope we can see a Tarver-Cunningham matchup.

6. Tavoris Cloud (23-0 19 KO's)
The current IBF light heavyweight champion is the one guy in the 175-pound division that nobody is eager to get in the ring with. He is a strong, hard-punching, relentless force that always puts on entertaining fights. Luckily for the 29-year-old Tallahassee native, the names can no longer overlook him. While his next fight is still unknown, there has been talk of a matchup against former titlist Jean Pascal, which could make Cloud huge money, especially if held in Canada.

5. Chad Dawson (30-1 17 KO's)
Up until last year, "Bad" Chad was regarded as a top-5 pound-for-pound fighter, but after suffering his first loss at the hands of Pascal in 2010, the former light heavyweight champion followed that performance up with a lackluster victory over Adrian Diaconu. Make no mistake that Dawson is one of the best pure boxers in the sport. He'll have his opportunity to show his last two performances have been nothing but minor roadblocks when he challenges 46-year-old light heavyweight champion Bernard Hopkins on October 15th in the toughest test of Dawson's career.

4. Timothy Bradley (27-0 1 NC, 11 KO's)
When you watch this junior welterweight champion fight, nothing catches your eye. He isn't the flashiest, he isn't the quickest, he isn't the strongest puncher, but all the "Desert Storm" does is win. He has beaten the likes of Devon Alexander, Kendall Holt, Lamont Peterson, Junior Witter, and Nate Campbell. Until someone knocks Bradley off the throne at 140 pounds, you must respect what he has done in the sport. Hopefully he'll get back in the ring soon and fight Amir Khan so we can find out who the true king is at junior welterweight.

3. Andre Ward (24-0 13 KO's)
Ward is one boxing's brightest stars and has a big future ahead of him. He can win the right to call himself the best Super Middleweight in the world if he beats Carl Froch for the Super Six championship October 29th. Since the tournament began, he has defeated names like Mikkel Kessler, Allan Green, Sakio Bika, and Arthur Abraham. Not a bad laundry list at all.

2. Bernard Hopkins (52-5-2 1 NC, 32 KO's)
What else can you say about the ageless wonder? Every time we count him out, he makes us all look stupid. He isn't just doing it by being an extraordinary counter-puncher either. He consistently beat Jean Pascal to the punch and was the aggressor throughout their 2nd go-round. If I'm not mistaken, 46-year-old men should not be able to beat up professional fighters 20 years their junior. Appreciate the greatness now because we may never see another like him. Dawson has the chance to execute "The Executioner" on October 15th at Staples Center.

1. Floyd Mayweather Jr. (41-0 25 KO's)
As long as he remains active and undefeated, he should be at the top of every pound-for-pound list. Forget the ego and forget the flash because that is what has made Floyd Mayweather a brand-name and not just a boxer. There is still nobody in the sport that has figured out a way to beat him over a 15-year pro career. That's impressive enough if you ask me. We'll see if Ortiz can change that September 17th.

FIVE JUST MISSING THE CUT...

11. Andre Berto (27-1 21 KO's)

12. Robert Guerrero (29-1-1 18 KO's)

13. Devon Alexander (22-1 13 KO's)

14. Paul Williams (40-2 27 KO's)

15. Adrien Broner (21-0 17 KO's)

Send your comments and thoughts to dkassel@fighthype.com, "Like" The Boxing Observer on Facebook, and follow us on Twitter @BoxingObserver.
[ Follow David Kassel on Twitter @BoxingObserver ]