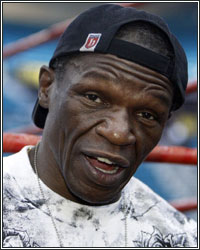 "I worked with Vernon Paris and he looked better than he ever has against Tim Coleman. Stevie Forbes never looked better than he did when I trained him to fight John Brown. When I trained Joan Guzman for his fight against Soto, that was the best he had ever looked; same goes for Anthony Hanshaw when he fought Roy Jones and Chad Dawson when he fought Tomasz Adamek," stated Floyd Mayweather Sr., the self-proclaimed greatest trainer in the world, who during a recent conversation, pointed out the type of effect he has on fighters after a short period of time working with them. "All of those guys looked their best when I trained them and that's a fact," he continued.

Obviously no one has ever had to tell Mayweather Sr. how good of a trainer he is, particularly since he taught undefeated Floyd Mayweather Jr. everything that he knows. "Lil Floyd, that goes without saying. Everyone knows his daddy taught him how to fight; that ain't no secret there," Mayweather Sr. remarked. The fighter he believes he made the biggest difference with, however, is none other than "The Golden Boy", Oscar De La Hoya. Not only does Mayweather Sr. believe that he prolonged De La Hoya's career by making him a two-handed fighter, but he also feels he played a major role in helping him become one of the wealthiest fighters in the history of the sport. "I gave Oscar new life. I showed him how to fight with both hands. I gave him a second career pretty much. I made him a millionaire several times over, man," he added.

In fact, Mayweather Sr. strongly believes that the rumblings about De La Hoya eventually returning to the ring are more than just rumors, and if so, he thinks he's the right man to resurrect De La Hoya's career. "Let me tell you something, I hear Oscar's talking about fighting again. If he plans on fighting again, he better come see me. He's never looked better than when I had him and that's no lie right there," Mayweather Sr. continued. "I'm going to be honest with you, man, I think Oscar will fight again. Hopefully he straightened himself out in rehab and everything, but I think he will go one more time, if not more."

Although he understands that he has his fair share of haters and doubters, Mayweather Sr. sticks by his claim as being the greatest trainer of all time. "The proof is in the pudding, man. Everyone that I have trained for a long period of time, or short period of time, looked their best when I had them, even if it was just for one fight. The thing is this right here, if you can't do what I say when I say, I remove myself. I have everyone calling my phone, from boxers, kickboxers and MMA fighters. That's saying something," he concluded.
[ Follow Percy Crawford on Twitter @MrLouis1ana ]