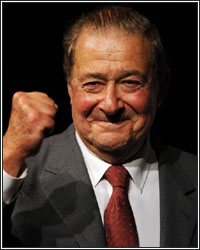 A source close to the information has informed us that Hall of Fame promoter Bob Arum has been working quietly behind the scenes to remove VisionQwest Resource Group from the services of pound-for-pound champion Manny Pacquiao. Last month, it was revealed that Pacquiao had hired the company to handle all of his accounting as well as his business contracts, including those pertaining to his boxing career. A press release explaining the company's role revealed that "contract reviews will be done during the course of contract negotiations and prior to any signing by Manny Pacquiao" and "VisionQwest is currently examining all contracts from 2005 and going forward." When the news first broke, Arum seemed unfazed, but evidently, he's not too happy about VisionQwest's involvement or some of the recent actions they've been taking on behalf of Pacquiao.

"Arum and Koncz are doing everything in their power to remove the very same people who were brought in for the sole purpose of making sure Manny is getting paid correctly. It doesn't make any sense. VisionQwest is just trying to look out for him," the source told us. Apparently, representatives of VisionQwest have been in contact with the Nevada State Athletic Commission, asking questions that have prompted Bob Arum to take action. "Michael [Koncz] showed up to deliver a letter written by Bob [Arum] two days ago. He wants VisionQwest out of the picture," the source added.

The irony is that, according to Koncz, he was the one who urged Manny to bring in VisionQwest quite some time ago. "VisionQwest was not just hired in the last few days. VisionQwest was brought in, in fact, at my request and with Manny's knowledge," Koncz would tell Lem Satterfield of RingTV.com just days after the rest of the world learned about their representation of Pacquiao. "I'm the one that advocated them to come in on behalf of Manny. I'm the reason that they continue to be our accountants, and they've done a tremendous job."

Of couse, if they've done a "tremendous job" thus far, one has to wonder why Koncz would now be delivering a letter to Pacquiao, on behalf of Bob Arum, in an attempt to remove their services. Did VisionQwest overstep their bounds by contacting the Nevada State Athletic Commission, the state-run governing body responsible for keeping records of all bout contracts that are submitted by promoters such as Bob Arum? Isn't that what Pacquiao tasked them to do; to review all contracts dating back to 2005?

"As has been in the past, I'm the one who is dealing with VisionQwest, and I'm the one who is providing them with all of the documentation and all of the access to the bank records, including my own," Koncz previously explained to Satterfield. "I'm providing them itemization of expenses and stuff like that. Manny told me before I got here that he expected me to continue to do that."

Perhaps therein lies the rub. Now that VisionQwest appears to be operating outside the confines of the limited information that has been provided to them thus far, it looks like Koncz and Arum are no longer interested in them continuing to do the "tremendous job" they've been doing. Stay tuned as this story continues to develop.
[ Follow Ben Thompson on Twitter @fighthype ]