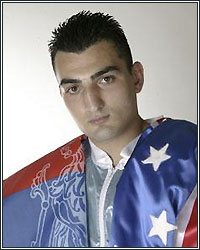 Now that Alfredo Angulo has returned to the ring after being out for 15 months, talks have heavily increased about a potential showdown with WBC champion Saul Alvarez. Since both fighters now share the same promoter in Golden Boy Promotions, the good news is that it's looking like the fight may become a reality. There is, however, the small matter that Vanes Martirosyan is the top contender for Alvarez's title, and he's very interested in facing Angulo to make himself the clear-cut mandatory for Canelo. While talks have reportedly began, there is interest between both camps to get a fight prior the facing Canelo.

Unforutnately, a couple of hurdles remain before the fight is set, including the obvious issue that Angulo is not allowed entry in the U.S. due to the fact that, in the past, he entered the country illegally on more than one occasion. I don't know if Martirosyan is willing to fight in Mexico, which would have to happen for the fight to happen, but if he is and the fight does indeed take place, it would be the biggest step in class for both men in quite a while. Nevertheless, it would be a good scrap and Canelo better be ready to fight the winner, who I'd favor over him if they fought.

The Best of the Rest


Nonito Donaire is going to return to the ring in a tough bout against Omar Navarez this October. Navarez is 35-0 and one of the best fighters of the lower weight classes in the past decade. He will be moving up in weight to take on Donaire, who himself has been out of the ring since last February. Navarez is a little past it, but mark my words, it's going to be a good fight.


So it seems that there will be a catchweight after all between Miguel Cotto and Antonio Margarito this December after back and forth talks regarding the matter. The agreed weight, according Sergio Diaz who manages Margarito, will be 153 pounds, which is an upgrade from the proposed weight of 150 offered by Cotto. I don't know why Cotto is so insistent on such a catchweight as he fought both Yuri Foreman and Ricardo Mayorga at 154 with no catchweights at all, but it seems that Margarito is more in Cotto's head than he's willing to admit.


Sergio Martinez is best suited to give up on trying to lure Floyd Mayweather or Miguel Cotto in the ring. It will never happen. If I were managing Martinez and I was coming up short on the big paydays, I'd keep my 35-year-old fighter busy taking the bigger purse in the smaller fights against guys like Peter Quillen, Dmitry Pirog or Matthew Macklin. Martinez doesn't have time on his side, so he has to set realistic goals to make the most of it.
Danny Howard can be reached via e-mail (
dhoward@fighthype.com
) Twitter (@DBHoward126) and on Facebook.