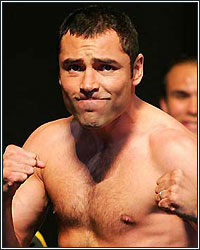 "It's so sad mayweather has to bash people and flaunt money he's not going to when he retires. give Ortiz a rematch. try beat him fair," commented Golden Boy Promotions President Oscar De La Hoya, who fired back at recent posts made by Floyd Mayweather on his Twitter account earlier this morning. Mayweather, who no doubt took offense to comments made during a conference call held yesterday to state their case for a rematch with Victor Ortiz, posted a series of derogatory statements directed at both De La Hoya and Ortiz, including pictures of Oritz modeling underwear as well as one of the infamous photos of De La Hoya wearing fishnet stockings. Perhaps the most surprising comment in this Twitter war, however, came next from De La Hoya.

"And then maybe just maybe i will give you a mother chance at me," De La Hoya tweeted. Now, eep in mind, De La Hoya's grammar isn't the best when he's posting on Twitter, so no, he didn't mean he would give Mayweather's "mother" a chance at him. While that definitely would have been a much stronger slap in the face, what De La Hoya really meant to say was "another" chance at him, which he quickly clarified in his very next tweet. In other words, Oscar De La Hoya just told Floyd Mayweather that he gives Victor Ortiz a rematch, then maybe, just maybe he'll give Mayweather a rematch with him. Say what? Surely he didn't really mean that.

When one of his followers asked him if he was serious about that comment, De La Hoya simply replied, "no", followed by a smiley face. Having been retired for nearly 2 1/2 years now, Oscar has maintained that he'll never fight again, and yet, rumors have continued to surface from time to time about an eventual comeback. So much so, in fact, that one can't help but wonder if a return to the ring in the near future isn't out of the question. In fact, the same sources who informed us back in May that De La Hoya was addicted to cocaine and committed adultery, long before he revealed the truth to the rest of the world, tell us that the Golden Boy coffers are running low and De La Hoya is hoping to refill them as soon as possible.

"Oscar needs to fight to make money. He's spending way more money than he's making. He's only a part-owner of Golden Boy, like a third of the company, and Schaefer's doing all the work. Believe me, he needs to make money somehow," one source commented. "That's why he's pushing so hard to get the rematch for Ortiz. That's why they're so willing to cash in on that Canelo vs. Chavez Jr. fight. They have no pay-per-view stars, so if they don't do something soon, Oscar will be in that ring sooner than you think."

Whether or not De La Hoya will indeed lace up the gloves again remains to be seen, however, you can't deny the fact that Golden Boy Promotions has yet to find a pay-per-view star to replace the income that De La Hoya generated when he fought. Furthermore, De La Hoya has been campaigning awfully hard to get Victor Ortiz a rematch with Mayweather, one of the only two pay-per-view stars that Golden Boy Promotions works with in some capacity. Obviously, the other is Manny Pacquiao, but the money that they make from a Pacquiao or Mayweather pales in comparison to what they made when De La Hoya fought. If you combine all that with the fact that De La Hoya has kept himself in excellent physical condition, then it's not hard to imagine a scenario where the 38-year-old De La Hoya eventually announces his return...especially if the feud with Mayweather continues to grow on Twitter.
[ Follow Ben Thompson on Twitter @fighthype ]