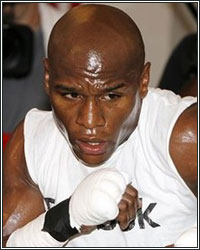 Floyd Mayweather has boasted that "...some people are talented and some people are gifted. I'm God-gifted." It's an ideology that suggests some fighters have to work harder than others to achieve similar results. It's a claim that is ironic only in that, Floyd also in the same breath states he's the hardest working athlete there is. Boxing has long been considered a sport that takes a lifetime commitment to achieve some sort of success in, regardless of how simple it may appear to the outside eye. So, which is it? Is he 42-0 because he has been touched by the hands of God or because he works harder than everyone else?

There are more questions hidden within Mayweather's rhetoric. At first look, the increase in the number of Mixed Martial Arts (or "MMA") competitors is likely the result of the surge in popularity that the sport has seen over the last six years. With popularity comes visibility and the opportunity to earn more compensation. MMA gyms have popped up all over the country, even forcing specialty dojos such as Judo or Muay Thai, to implement other facets of the sport into their program because of the demand. It's either adapt or be rendered extinct.

UFC, the number one MMA promotion, has an influx of "superstars" that seemingly appeared out of nowhere. Jon Jones became the youngest UFC champion in history when he defeated Mauricio "Shogun" Rua for the Light Heavyweight Championship. How long did Jones train prior to his ascent in the UFC? Well, Jones his MMA debut in April of 2008. He appeared in the UFC at UFC 87 in August of 2008. He fought six MMA fights in the span of 3 months before appearing at UFC 87, and he hasn't lost as of 2011, he's won all of his bouts with the exception of a loss by disqualification.

So, how did he do it? How has he become the number one 205lber in the world in just a short period of time? Is he just a freak of nature? How valuable were his four years of wrestling in high school? Did the JUCO championship he won at Iowa Central Community College prepare him for a career in MMA?

Conventional belief is that a background in amateur wrestling is the best preparation for MMA which primarily consists of, Muay Thai kickboxing, wrestling and ju-jitsu. Current UFC Heavyweight Champion, Cain Valasquez, was a two-time All-American collegiate wrestler at Arizona State University and a Junior College National Champ at Iowa Central Community College. Current UFC Lightweight Champion, Frankie Edgar wrestled at Clarion University of Pennsylvania and is an assistant coach for Rutgers University. Because wrestling has shown to be so pivotal in the career of many UFC and MMA champions, the consensus has been, "…he wrestled for X number of years and that has helped him grow within the sport in such a short period of time…"

Okay then, let's work with this premise. Wrestling is a component of MMA, 33.3% of what a MMA practitioner should be familiar with. Therefore, if you are as talented a wrestling as UFC Welterweight Josh Koshcheck is, you come into the sport as a master of 1/3rd of what you need to know, professionally. But what about the remaining pieces? Can fifteen years of wrestling experience make up for two-three years experience in striking and ju-jitsu?

There's another angle one should consider when discussing wrestling and the value amateur experience brings. Is there any disadvantage to having little to no wrestling experience prior to competing professionally in MMA? Most would say yes. The upper echelon UFC lightweights are wrestlers first. As noted earlier, the UFC Heavyweight Champion is a wrestler littered with accomplishments in the sport. But then there's UFC Welterweight Champion Georges St. Pierre. Georges, with little to no amateur wrestling experience, has become arguably, the best wrestler in all of MMA. Over the course of his professional career, he's worked hard enough to become the best of the best on the ground and has even considered representing his country in the Olympics in wrestling.

Not to diminish the talent, athleticism, or hard work requires but Georges made his entrance into the UFC in 2004 with a very basic wrestling base. He worked hard over the last 8 years or so to become the dominant force that he's known to be now but the key word in MMA is mixed. You can win a fight by leaning on any of the arts or by learning to be a jack of all trades. It's a benefit that MMA practitioners have that boxers do not. A boxer isn't going to make it very far in the sport without a solid foundation with his hands. He must already be a skilled pugilist.

Most professional boxers started between ages 8-12. It's a sport that requires timing, muscle memory, strength and tremendous stamina. Much in the same of MMA, preparation is a key component to your success. But a conspicuous difference appears when we look at the most successful boxers of our generation and compare them to that of MMA. Floyd Mayweather, arguably the best in his sport, began boxing at age seven and fought 90 amateur fights before going pro. Manny Pacquiao started boxing at age 14 and reportedly had 64 amateur fights. The current Middleweight Champion Sergio Martinez, who by all accounts started the sport late, began boxing at age and accumulated 17 fights in Argentina before moving to the U.S.

Amateur boxing operates much like collegiate farm systems work in other sports. A fighter navigates his way through the ranks, building name, and in-ring experience (sometimes competing in Olympics), all while fine-tuning the very same skills that said fighter plans to utilize to earn a living, minus headgear and glove size.

Much has been made of boxer's disdain and lack of respect for MMA artists. Some have spoke from afar, (Prior to training with MMA practitioners, Bernard Hopkins, specifically), while others have made the mistake of entering in their realm (see James Toney). But was James Toney's demolition at the hands of Randy Couture an actual representation of disparity of skill between the sports or was Toney just swimming in a pool in which he had no business being in?

The answer is clearly the latter. James Toney went into the fight thinking,"we, as boxers, work harder than these guys, train longer and are far better strikers. There is no way I can lose to this guy", when in actuality, if he spent the 6 months or so, training in all aspects of the sport, he could have had a legitimate shot. Don't think so? Look at the television show 'The Ultimate Fighter'. UFC takes MMA wannabe's, places them in a situation where they train with a high-level group of instructors for a little over a month, and while some fighters in the house have had more experience than others, the results are quite extraordinary. Rashad Evans and Forrest Griffin are former cast members of the show who went on to hold championships and have been thrust into stardom. In comparison, Sugar Ray Leonard's 'The Contender' couldn't turn fighters, who were already professional, mind you, into stars.

Two to three times a year, boxing will still be pay-per view king. It will overshadow UFC and WWE and create a spectacle that can only be compared to the Super Bowl. But as MMA continues to churn out stars at a ridiculous rate, one has to look at the speed in which one can go from zero to hero in MMA and then re-examine Mayweather's statement and consider the fact that maybe, someone like Jon Jones is God-Gifted and maybe, just maybe, Mayweather is just one of the hardest working athletes alive.