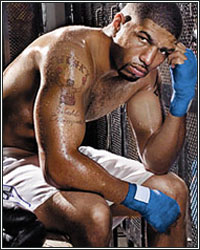 Golden Boy fighters beware! If you're not a partner in the company, you may want to think twice about voicing your opinion when it comes to the performance of other Golden Boy fighters. Apparently, that's a lesson that former undisputed jr. middleweight champion Winky Wright may have just learned the hard way. Although we have been unable to contact representatives of Wright to confirm the story, rumor has it that his ties to Golden Boy Promotions are being cut due to comments he made over the weekend about the performance of former light heavyweight champion Bernard Hopkins. Evidently, Golden Boy Promotions CEO Richard Schaefer was not pleased when he found out that Wright suggested Hopkins may have faked an injury in order to get out of his fight with Dawson. "Bernard quit," Wright would tell a number of reporters in attendance when asked of his opinion of the performance.

"From where I sat, from where anybody sat, I don't think he was hurt. I think he could have fought on," he continued. "He didn't want no more." Rumor has it that the comments were the final straw for Schaefer, who was already upset about the fact that Wright was working with Dawson in preparation for the fight. If true, the move would seem somewhat biased of Schaefer, who seemed to have no problem with Bernard Hopkins voicing his opinion to Jim Rome about Victor Ortiz, suggesting that he quit in his fight against Floyd Mayweather. Not to mention, Schaefer also doesn't seem to mind when other Golden Boy fighters have strong words for each other, like Amir Khan and Marcos Maidana, who continue to trade insults in their war of words on Twitter, or even Paulie Malignaggi, who took a shot at newly-signed Golden Boy fighter Devon Alexander when he wore a shirt that read "Devon is my Bitch" after his victory on the undercard of Hopkins vs. Dawson.

It's unclear as to exactly why Schaefer would want to make an example out of Wright for simply voicing his opinion, something that every other fighter in the company appers to have the freedom to do. Perhaps it's because Wright was never officially under contract with the company, instead having a working relationship with the company similar to that of Floyd Mayweather. Of course, considering that Mayweather's comments about Golden Boy Promotions President Oscar De La Hoya have never stopped Schaefer from doing business with him in the past, one has to wonder where his loyalty truly lies if someone like Wright, who's never had one bad thing to say about the company, can get cut loose for simply saying the same thing that a lot of other people were saying.

For Winky's sake, I hope that Schaefer was simply emotional over the events of Saturday and will continue to work with him, especially considering that he was looking to finally step back into the ring this December. But like I said, Golden Boy fighters beware...big brother is watching you!
[ Follow Ben Thompson on Twitter @fighthype ]