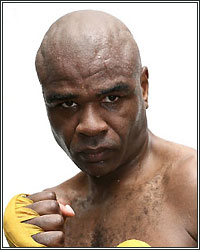 Former light heavyweight champion Glen Johnson (51-15-2, 35 KO's) says he is right where he needs to be in preparation for his November 5th clash with IBF super middleweight champion Lucian Bute (29-0, 24 KO's), which takes place at the Pepsi Coliseum in Quebec. The 43-year-old Johnson, who lost a majority decision to Carl Froch in the semifinals of the Super Six Tournament, presents the toughest challenge of Bute's career thus far and he's ready to shock the boxing world once more. "Things are going good. Can't complain. Training camp is going well. Now we're starting to wind down training camp as the fight is only a couple weeks away. We're excited and we feel amazing, and we feel like we're gonna shock those people in Canada," stated Johnson.

"The Road Warrior", as Johnson is best-known for his willingness to travel to an opponent's home turf to fight, is not worried about the distractions outside the ring. He feels once the bell rings, everything will take care of itself. "I feel like we did all the adjustments we needed to and we're right where we need to be to be successful. Weight-wise, we're right where we need and we'll be ready to go," he added.

Bute is coming off a knockout victory over Jean Paul Mendy in his birth country of Romania. This will be just his third fight in the Pepsi Coliseum, and his first since he thrashed Librado Andrade in a 2009 rematch. Most of Bute's big fights have been fought at the Bell Centre in Montreal. This will be Johnson's first fight outside the United States since a 2006 split-decision loss to Clinton Woods in England. He has has never fought in Canada.

Email questions/comments to dkassel@fighthype.com, "Like" The Boxing Observer on Facebook, and follow me on Twitter @BoxingObserver.
[ Follow David Kassel on Twitter @BoxingObserver ]