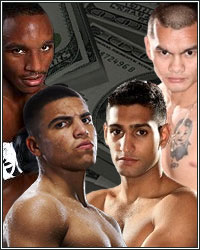 If you had the misfortune of sitting through all 12 rounds of last Saturday's headliner between Nonito Donaire and Omar Narvaez, you probably thought to yourself, "What the hell is going on with boxing?" Let's face it, although our beloved sport isn't dead, it's definitely been diagnosed with cancer. Whether it's the incompetence of judges, the ineptitude of referees, the stupidity of sanctioning bodies, or the greed of promoters, there's no shortage of problems that are driving more and more fans away. But I don't want to dwell on the negativity that we're all too familiar with. Instead, I'd like to offer up an idea that I think will generate some interest amongst fans and, at the same time, help build the stars of tomorrow. With that, I propose to you the Money May-Per-View Tournament, featuring Amir Khan, Victor Ortiz, Devon Alexander and Marcos Maidana!

Now, hear me out on this! Surely it's become clear to most of you that a fight between Floyd Mayweather and Manny Pacquiao is not going to happen any time soon. In fact, from what I'm being told by a few different sources, Pacquiao's next 2-3 fights are pretty much already lined up, one being Timothy Bradley and another being Bradon Rios, with some potential wiggle room for Miguel Cotto should he somehow look spectacular against Antonio Margarito. That being said, whenever Floyd Mayweather does decide to make his return to the ring, he's going to need a dance partner. Enter Golden Boy Promotions, who's in a unique position, having continuously done business with Mayweather ever since he and Oscar De La Hoya set the record for pay-per-view buys. Naturally, some people think that jr. welterweight champion Amir Khan is the frontrunnter to land the assignment, however, that's not a gurantee. In fact, there's not even a guarantee that Mayweather will ever fight again, leaving Golden Boy Promotions CEO Richard Schaefer, as well as executives at HBO, wondering exactly how to move forward while keeping options open for the undefeated pound-for-pound champion.

Come January, Ken Hershman, the former head of Showtime Sports, is taking over as President of HBO Sports. In the past, Hershman has exhibited an ability to think outside the box, breathing life into a forgotten Super Middleweight division with his brainchild, Showtime's Super Six World Boxing Classic. It's that kind of creativeness that fans are hoping to see on HBO in 2012, but it's going to take more than one man to bring back interest in boxing. It is for that reason that I submit to you the Money May-Per-View Tounament, a four-man, single-elimination tournament to determine Floyd "Money" Mayweather's next opponent. It's an idea that I think Golden Boy Promotions can capitalize on, using four of their top fighters as well as Floyd Mayweather's involvement, and give back to the fans while at the same time building their own future pay-per-view stars.

Picture, if you will, a press conference to be held in January featuring the brand new President of HBO Sports, Ken Hershman, along with Golden Boy Promotions CEO Richard Schaefer, and undefeated pound-for-pound champion Floyd Mayweather on one side of the dais, with Golden Boy fighters Victor Ortiz, Amir Khan, Devon Alexander, and Marcos Maidana on the other side. In his first act as President, Hershman steps to the podium to officially announce the Money May-Per-View tournament and all of the participants. Afterwards, Schaefer takes over the mic to explain that Floyd Mayweather will actually be the one drawing the names for the tournament brackets, ultimately deciding the road that each participant must take in order to get to the ultimate prize, a showdown with "Money" Mayweather himself. Next, Mayweather begins the process of selecting the first round of matchups. Khan-Ortiz, Alexander-Maidana, Khan-Maidana, Ortiz-Alexander, Khan-Alexander, Ortiz-Maidana...any one of them is a fight worth watching. After the selection process, Mayweather surprisingly reveals that he will be the guest commentator for all of the fights, sitting alongside Jim Lampley and Larry Merchant to call the action. "Like I said before, it's out with the old and in with the new. Not only would I have kicked his ass inside the ring, but I'm gonna teach him how to rock the mic too," Mayweather could boldy proclaim.

Am I asking for too much? Maybe, but in my opinion, it's an easy and surefire way to regenerate some buzz in a sport that's been getting far too many chants of "This Is Bullshit" from fans lately. Sure, Golden Boy Promotions is taking some risk by pitting four of their fighters against each other, but that's exactly what fans want to see; fighters taking risks. Besides, as all four fighters have already proven, a loss doesn't mean the end of their career. Not to mention, three out of the four fighters have already participated in Fight of the Year candidates, and one of them, Maidana, gave two of them, Ortiz and Khan, all they could handle. Hell, truth be told, Golden Boy Promotions could probably put the matchups on pay-per-view and recoup all of the money they wasted on that dreadful Hopkins vs. Dawson event. I mean, if I'm being asked to pay for something, those are the kind of fights that I want to pay for. If they want to make it even more interesting, put Danny Garcia vs. Jessie Vargas on the undercard, a Golden Boy fighter against a Mayweather fighter. Give it a cheaper price tag, say $39.95, and with Floyd Mayweather and Larry Merchant sitting side by side for color commentary, who wouldn't pay for that event? I know I would, and I'm sure a lot of other people would too.

Richard Schaefer has already expressed interest in putting together a welterweight tournament, but don't just talk about it...be about it! It's time to stop protecting these guys in hopes of positioning them for one shot at Floyd Mayweather. You don't necessarily have to put them in the ring with Floyd in order to turn them into superstars. Instead of trying to make them instant pay-per-view attractions with one big mega-Mayweather fight, make them become pay-per-view draws by fighting each other. As long as Mayweather's involved, which shouldn't be a problem so long as you pay him the same appearance fees he's getting from all of these clubs, these guys will get the exposure, giving Golden Boy Promotions the in-house attraction they have yet to find. If they think outside the box, the fighters, Golden Boy Promotions, HBO, Floyd Mayweather, but most importantly, the fans will all benefit.
[ Follow Ben Thompson on Twitter @fighthype ]