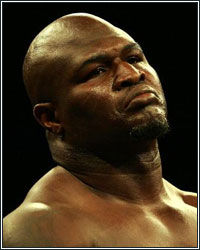 "Man, I am...Percy, I am so shocked. I never thought a legend like that can go like he did, you know what I'm saying," stated future Hall of Famer James Toney, who shared his memories of the late, great Joe Frazier, who lost his battle with liver cancer and passed away late Monday evening. Toney, who recently returned from Russia, was shocked when he first heard the news that Frazier was even in the hospital. "One of my partners from Detroit was telling me, 'You know, while you was gone, Joe Frazier was in the hospital.' I told him, 'You bullshittin, dog.' I always looked at Joe Frazier like someone who couldn't be hurt. I couldn't believe it, you know what I'm saying?"

"To me it puts everything in perspective because I played him in the movie 'Ali'. It was great playing Joe Frazier and it was an honor playing him because he was a top 5 heavyweight of all time. No doubt. Everybody talk about top 10, but he a top 5. There is Ali, Joe Louis, Jack Johnson, Frazier and Marciano. It aint much left after that. It shouldn't be Ali and Frazier; it should be Frazier and Ali," Toney commented, reflecting on Frazier's status as one of the greatest heavyweight champions of all time.

"I didn't get to consult with him for the movie, but I wish I could have. I was fortunate enough to meet Ali, but I never had a chance to meet Joe Frazier and I wanted to meet him because he was one of my favorite fighters of all time. He was a great fighter. You want to define warrior; that motherfucker right there was a warrior. Joe Frazier is an all-time great warrior," he continued, explaining what it was like to play Frazier in the movie "Ali". "I watched countless hours of tape on Joe Frazier because in order for me to play somebody great like that, I had to be great at what I was doing, just like he was. It took a lot of concentration and a lot of work."

Reflecting on his career, like many, Toney's best memory of Frazier was the epic "Fight of the Century" battle he had with Muhammad Ali. "My greatest fight memory of Joe Frazier was the first Ali/Frazier fight when he took care of business, just like he said he was gonna do. All of that shit Ali talked, he let it go over his head and he beat the brakes off of him for 15 rounds. That was one of the last great 15 round fights ever. That left hook that he hit him with in that last round that put him on his seat was a thing of beauty," Toney added.
[ Follow Percy Crawford on Twitter @MrLouis1ana ]