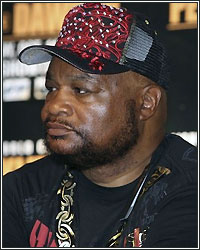 "It shocked me. I know the family, Jackie, Pete and Marvis, and it was just crazy to see Joe go like that. The bottom line of how I will remember Joe Frazier, he was a fighter's fighter. When you look up in the dictionary under fighter, you should see a picture of Joe Frazier right next to that definition," commented world-class trainer and former light heavyweight champion Eddie Mustafa Muhammad, who shared his memories of the late, great Joe Frazier, who lost his battle with liver cancer and passed away late Monday evening. With a good portion of his own career taking place in the 70's, Muhammad had a number of fond memories that he shared with FightHype.com as he reflected on Joe Frazier the fighter and the man. "I liked all of his fights with Ali. When I fought in the New York Golden Gloves in 1971, they had to push our finals back to a week later because they were putting Ali/Frazier 1 in the Garden. So that's how big that fight was and that was cool with me because that gave me more fuel to whoop Vito Antuofermo's behind," he continued.

"I saw Joe in a Chicago airport one day and I had just got through talking to Charles Barkley. I was going to catch my connect and I saw the airport personnel wheeling Joe in a wheelchair. I guess the gate was too far away for him to walk. They was taking him and we saw each other and I said, 'Hey, what's up big guy,' and we were just kicking it. But I was running late to catch my plane, so I didn't kick it with him that much. But I think he was heading back to Philadelphia if I remember correctly," Muhammad recalled.

"What he brought to the table was more than what these heavyweights bring to the table today, and he was a little guy. He brought that hardcore determination. What attributes he had, and his size was not one of them, but he had something to make up for all of that and that was that big left hook. He had the equalizer amongst equalizers. He had that big left hook. I will always remember when he hit Ali with that left hook in that last round. I liked to kid Ali a lot when we used to hang out in camp and I used to always tell him, 'Man, your jaw still looks swollen from that shot that Joe Frazier hit you with.' We always kid with each other like that. Joe Frazier was more than just a credit to boxing; boxing just happened to be the key to introduce Joe Frazier to the world. He was an Olympic Gold medalist, former world heavyweight champion, and just an all-out good person. He was an outstanding person. I will be attending the funeral. That's how much respect I got for him," he added.
[ Follow Percy Crawford on Twitter @MrLouis1ana ]