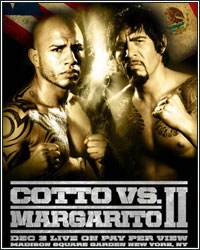 It's Monday. Welcome back for another edition of Observe and Fight, The Boxing Observer's compilation of observations and random thoughts from the week that was in boxing. Get caught up on some of the most recent events you may have missed out on, including the best 24/7 yet, Golden Boy Promotions latest power play, a potential Julio Cesar Chavez Jr vs. "Canelo" Alvarez fight, and much more. Without further ado, check out the latest observations from The Boxing Observer.


Is Miguel Cotto just "selling it"? The Cotto-Margarito 24/7 episode was by far the most entertaining 24/7 episode since De La Hoya/Mayweather 24/7. Margarito's former trainer, Javier Capetillo may have said it best. These two guys truly hate each other, but are we really to believe that Cotto is suffering no mental ill-effects of the beating he took 3 years ago? Nobody in their right mind thinks Margarito didn't cheat, but I haven't heard Cotto complain publicly this much about the hand wraps until the build-up of the fight. The confidence is just not there and I'm putting my money on Margarito.


Can I get a venue? PLEASE!!! This whole bullshit about Margarito's eye is making me crazy. If the New York State Athletic Commission allowed Eric Lindros to play hockey against the New York Rangers, or if Troy Aikman and Steve Young were allowed to play against the Giants and Jets with 27 concussions, don't give me any garbage about forcing Margarito to go through extensive eye testing. If a guy wants to ruin his career and life, why stop him? This fight will do nothing but bring money to NYC. Get it done already!


HBO is doing a great job of making Cotto the hero and Margarito the villain. The camera angle and big shades on Margarito made him look like he was straight out of a 1990's drug lord movie. Cotto is the one everyone is rooting for, but Margarito sure has a career in Mexican gang movies when he retires. I will gladly watch any movie Margarito stars in over any Manny Pacquiao film project.


Speaking of Hispanic drug lords, hats off to former light flyweight champion Ivan Calderon. Early last week, Puerto Rican federal agents found $4 million dollars worth of cocaine inside a property owned by the "Iron Boy". It's going to be hard for Calderon to get out of this one and his future is not looking good. The amount of drugs found in Calderon's home is enough to make former Dallas Cowboy Nate Newton blush. Calderon must have been looking at life after boxing and trying to replace Tony Montana in Scarface.


After watching the fight again, and again, and again, Pacquiao-Marquez III is still a draw. For the last time, there was no robbery.


Is Golden Boy Promotions making a play to take over Showtime Networks? The announcement of Stephen Espinoza as the new head man of Showtime Sports sure makes it look like Showtime is in collusion with Golden Boy. Espinoza has been the lead legal council for GBP for several years. When Ken Hershman left Showtime for HBO, it was viewed as a huge win for HBO, but Showtime's recent counter-hire could give them the jump on Golden Boy fighters. If Golden Boy is willing to throw a little money into Showtime, we could have some serious competition for HBO. I just hope nobody forgets that there are many great fighters outside of the Top Rank and Golden Boy Promotions stables and that they don't get shut out. Remember, that's one of the main reasons Ross Greenburg left (*cough* was fired by *cough*) HBO.


Julio Cesar Chavez Jr. is entertaining as hell, but he's not ready for prime time. The son of the Mexican legend has the fighting spirit and heart of his daddy, but nowhere near the skill. Not even 10 years of training with Freddie Roach can make up for Chavez Jr.'s lack of speed or skill. His punches are wide, his stamina is still suspect, and his dedication to the sport is highly questionable. One training camp does not change a professional career of laziness. One thing is for sure though, Chavez Jr. can sure as hell take a punch.


I'm more convinced than ever right now that a Chavez Jr. vs. "Canelo" Alvraez matchup would be a Fight of the Year candidate, and I think Chavez Jr. would win. Chavez Jr. has a granite chin and Canelo's is shaky at best. This would be a Mexican superfight that I'm ready for, but both Top Rank and Golden Boy better be careful not to wait too long to match these guys. Both have major holes that are becoming more and more exposed, and both have the potential to lose very soon. I'm not truly convinced Canelo won't struggle with Kermit Cintron Saturday night.


Bob Arum has completely gone off his rocker. Arum's suggestion of an Oscar De La Hoya vs. Julio Cesar Chavez Jr. fight is a complete joke. While the idea would make a ton of money, I'm not so sure De La Hoya wouldn't still box circles around Chavez. Chavez can take a punch, but he isn't on Oscar's level, even now. The assertion of such a fight shows just how much Arum is afraid to put his fighters in competition with anyone of risk. Can you say Manny Pacquiao?


Sergio Martinez does not have any credible opponents at middleweight. For as much as the Europeans are talking, and as much as we hear Freddie Roach say Chavez Jr. is ready for "Maravilla", they just don't compare to Sergio. Matthew Macklin is reportedly going to get the next shot at Martinez and good luck to him. Macklin didn't get a fair shake in Germany against Felix Sturm, but Sergio is a whole different animal. Martinez needs to drop to jr. middleweight for good and make some real money against some of the top 154-pound fighters. If he drops down for good, he may find it easier to land a fight with Floyd Mayweather or Manny Pacquiao.


I heard Riddick Bowe s thinking of making a comeback. NOOOOOOOOOOOOOOOOOO!!!!!!!!

That's all I've got for this week. Send your comments to
dkassel@fighthype.com
, "Like" The Boxing Observer on Facebook, and follow me on Twitter @BoxingObserver.
[ Follow David Kassel on Twitter @BoxingObserver ]