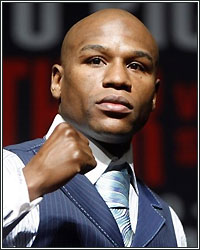 After hearing Bob Arum's comments shortly after the Pacquiao-Marquez fight, it appears that we may never see the fight of the century, at least not on May 5th, between Floyd Mayweather and Manny Pacquiao. Since Floyd already has a date set, however, the million dollar question is who will be the lucky man to win the Mayweather Sweepstakes? Since Bob Arum doesn't seem to want to do business with Mayweather, obviously it won't be anyone from the Top Rank stable, but that's okay, as there are still a number of different names out there. That being said, in my opinion, there are really only three viable options for a May 5 showdown with Mayweather.


SERGIO MARTINEZ
I think most people now recognize Martinez as being Mayweather's biggest challenge in the 140-160 pound range. Martinez has the skills, speed, and power to give Floyd a battle and would probably present the closest odds of any potential Maywether opponent at the sportsbooks. Team Martinez really wants the fight and will do whatever is necessary to secure it. While Martinez is not as much of a household name as some others, the fight could do big numbers and provide a good storyline. In addition to the money, hardcore fans would be extremely excited to see this matchup and Mayweather would add the most to his already impressive legacy. He could accomplish something that both De La Hoya and Trinidad failed to do, take down the reigning Ring Magazine middleweight champ.


AMIR KHAN
British fans are known to support their fighters extremely well (remember Ricky Hatton), especially when it comes to buying fights or taking flights across the pond to watch the battle live. Khan is a bonafide star in England and all across Europe, and a fight with Mayweather would be a mega-event overseas. While this fight could fill a soccer stadium in England with ease, Amir would also bring a boisterous crowd with him to the MGM Grand. Khan is young with huge upside, and his athleticism, coupled with the tutelage of Freddie Roach, could pose problems for Mayweather. This fight would be simple to make because of the Golden Boy connection, and it sure would be a fun 24/7 to watch with all of the personalities involved.


ROBERT GUERRERO
If you're fighting on Cinco de Mayo, it makes sense to fight someone of Mexican heritage. While Canelo Alvarez would be a huge event, he's not ready for the Mayweather challenge, and Erik Morales is too past his prime for this fight. But there is an attractive option that most are overlooking, Robert Guerrero. The Ghost is a young, multi-division world champion (also with Golden Boy) who is bilingual and has a great personal story, far more compelling than Victor Ortiz's story was. He has the natural frame to handle welterweight, and his boxer/puncher style would be entertaining paired up against Mayweather. He's moved up in weight with ease, and although this would be a big jump, Guerrero has faced much more adversity than simply gaining a few pounds for a career-defining fight.
With these options available for Floyd Mayweather, it is easy to take a "glass is half full" approach to May 5th. While I'd still love to see a Mayweather-Pacquiao fight, the matchup has lost some luster. However, this gives us the chance to appreciate the wealth of talent around 147 and the potential for some great fights in the near and distant future.