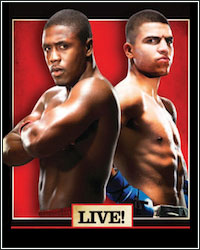 "Berto-Ortiz is gonna happen. Berto's next fight is going to be against Ortiz either January 28th or Feb 11th," stated Andre Berto's promoter, Lou DiBella, who confirmed a previous report that a rematch between the two former welterweight champions will indeed take place in the early part of 2012. Although no venue for the rematch has been set, Dibella says an announcement is coming shortly.

Ortiz shocked Berto back in April during their first fight, which saw each man knocked down twice en route to Ortiz winning the WBC title via unanimous decision against the then undefeated Berto. The win by Ortiz, a 2011 Fight of the Year candidate, vaulted him into a big money fight against Floyd Mayweather a few months later in September. Ortiz was knocked out in the 4th round of that fight and has not fought since, after making a career-high $2.5 million.

Berto bounced back from losing his title to Ortiz by defeating Jan Zaveck for the IBF welterweight title via technical decision in September when the fight was stopped due to a cut over Zaveck's right eye.

Stay tuned as FightHype will keep you posted on the story as it becomes official.

Email comments to dkassel@fighthype.com, "Like" The Boxing Observer on Facebook, and follow me on Twitter @BoxingObserver.
[ Follow David Kassel on Twitter @BoxingObserver ]