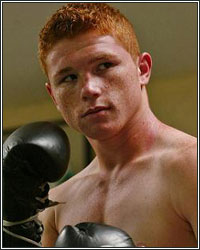 It's Monday. Welcome back for another edition of Observe and Fight, The Boxing Observer's compilation of observations and random thoughts from the week that was in boxing. Get caught up on some of the most recent events you may have missed out on, including Golden Boy's attempt to takeover boxing, Miguel Cotto's potential downfall Saturday night, the other big rematch on Saturday, and much more. Without further ado, check out the latest observations from The Boxing Observer.

Golden Boy's takeover is slowly beginning. Earlier this week, ESPN.com was the first to report the rematch between Victor Ortiz and Andre Berto will take place on Showtime instead of HBO. That's a big blow to the HBO sports department and new head-man, former Showtime Sports mastermind, Ken Hershman. Showtime's brilliant hire of Golden Boy Promotions' former lead legal council, Stephen Espinoza, is nothing more than a play for GBP to use Showtime as a showcase network for its promotional company and its fighters. Would Ken Hershman have shelled out $2.25 million for the Ortiz vs. Berto rematch if he was still at Showtime? Probably not. HBO only offered $2.15 million. Where is that money coming from? Let's be real here. Golden Boy is making some serious moves.

Miguel Cotto's switch to a new trainer will be his downfall Saturday night. When the rematch was announced between Cotto and Antonio Margarito, most, including myself, immediately thought Cotto would get his redemption for the beatdown he incurred at the hands of Margarito three years ago, but reality soon began to sink in. The first fight was at 147 and Margarito walked through Cotto's punches. Are we to believe Cotto can hurt Margarito at a higher weight? Cotto demanded the rematch take place at a catchweight of 150 pounds (it was eventually settled for 153 pounds). Sounds like a lack of confidence to me. And the kicker...Cotto left hall-of-fame trainer Emanuel Steward for a relative unknown in Pedro Diaz, the former head trainer of the Cuban national team. While the Cubans have a history of success, Diaz has openly admitted he is still new to professional boxing. Is Cotto training for this fight to "score points" instead of using his experience and aggression? If so, expect the same result as the first fight. Early Cotto success while Margarito continues to barrel forward eventually breaking Cotto down to the point of exhaustion. Remember, it was Margarito who stated he was willing to die in the ring. Cotto's response, "That's stupid." Doesn't sound like a winning game plan if you ask me.

The undercard of the Cotto vs. Margarito II pay-per-view will outshine the main event. Brandon Rios always puts on a great show. Expect much of the same against John Murray. Pawel Wolak vs. Delvin Rodriguez speaks for itself after their 2011 Fight of the Year candidate back in July. And Mike Jones vs. Sebastian Lujan should be a war with a title shot on the line. I can't wait for Saturday.

Cotto-Margarito II isn't the only big fight Saturday night. Lost in the shuffle of "Plaster-Gate" is the bantamweight rematch between Abner Mares and Joseph Agbeko. If you will remember, there is just as much controversy surrounding this rematch as there is for Cotto-Margarito II. Mares repeatedly hit Agbeko low during the Bantanweight Tournament championship final, and referee Russell Mora never deducted a point from Mares. Agbeko is looking for redemption while Mares is hoping to prove once and for all he is the better of the two fighters. The first fight was just as entertaining as Cotto vs Margarito I. I expect Mares-Agbeko II to be the better of the two main events on Saturday night.

"Money" Mayweather would make it rain all over "Canelo" Alvarez. Truth. The 21-year-old Mexican phenom looked really good Saturday night, but let's be real. He is a solid three years from being ready for the caliber of Mayweather. As much as Kermit Cintron has given to the sport of boxing, he needs to take the path of Peter Manfredo Jr. and call it a day. "Canelo's" victory was nothing more than brilliant matchmaking by Golden Boy. Oscar De La Hoya currently stands a better chance against Mayweather than does Alvarez.

Forget Brandon Rios. Yuriorkis Gamboa needs to get in the ring with Gary Russell Jr. I don't care if Al Haymon specially matches Russell with hand-picked opponents. Russell is the truth! We haven't seen anyone with this kind of ability at such a young age since...you guessed it, "Pretty Boy" Floyd. Russell is the next American boxing superstar and will be around for years to come. Don't be worried about his chin because it may be awhile before Russell gets in any serious trouble. How long did it take for Mayweather to take a serious punch?

Adrien Broner needs to fight "Bam Bam" Rios instead. Gamboa's rumored jump from featherweight to lightweight is a mistake this soon. Broner is a more logical opponent for Rios at lightweight, being that Broner is the best jr. lightweight in the world. He has no credible threats at 130 pounds and has the style that matches up well with the unrelenting pressure of Rios. Just one problem...Broner is a Golden Boy fighter and Rios is owned by Top Rank. DAMN YOU BOXING POLITICS!

Don't forget about the heavyweight championship fight Saturday night. It may not be as entertaining, but the heavyweight division will always draw interest. WBA "regular" (bullshit) champion Alexander Povetkin puts his title on the line against Cedric Boswell. If nothing else, at least we might see a brutal knockout. Isn't that what the heavyweight division is all about anyway?

Speaking of heavyweight title fights...is anyone even aware that Wladimir Klitschko is defending his championships next Saturday? Don't worry if this news because the titles are in no real danger. He is facing the punching bag that is former cruiserweight champion Jean Marc Mormeck. This fight will go as long as Klitschko allows it to go.

I got a chance to watch Europe's "Box Nation" for the first time Saturday night. Promoter Frank Warren hit a homerun with his idea of a live boxing television show. They put all the big boxing matches on television and have some pretty entertaining hosts to boot. There seems to be no political or organizational affiliation with the on-air talent. It was a breath of fresh air to hear hosts becoming interactive with fans and giving "honest" opinions about the fighters, their abilities, and their futures.

That's all I've got for this week. Send your comments to dkassel@fighthype.com, "Like" The Boxing Observer on Facebook, and follow me on Twitter @BoxingObserver.
[ Follow David Kassel on Twitter @BoxingObserver ]