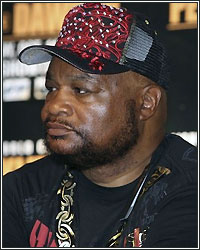 World-class trainer Eddie Mustafa muhammad shares his memories of former heavyweight title challenger Ron Lyle, who unexpectedly passed away this past Saturday at the age of 70. "Ron was a true, in every since of the word, good human being. No matter what people think about us as fighters, sometimes they label us in the wrong way. One guy you couldn't label in the wrong way was Ron Lyle. I met Ron back in 1970 or '71 when he came out of prison, and Bill Daniels, who was his manager at the time, sent him up to New York to train with the guy that was training me Chickie Ferrara. From right then, right there, me and Ron became real close friends. He was just a good person to be around in this business. He had a strong appeal and no-die attitude. He was a good person. Ron was ahead of his time because he was a strong-minded person. Whatever he wanted to do, he put his mind to it and it was a done deal."

"I've seen him in some of the greatest fights; him and George, him and Ali and him and Shavers. I was there for all of that; that's how tight we were. We were real close. It's so ironic because I'm in the bed sleeping and I get a phone call early Saturday morning, I mean, real early, from his wife Jill, and she told me that Ron passed away. It was crazy. It was real crazy. I couldn't believe it. You talk to a cat and you find out that this cat is real down to earth and then all of a sudden he is taken away from us: 1,2,3."

"Ron loved boxing and anything that he could do for boxing, and anything that he can do to help the sport, he was all for it. Boxing was his life. Boxing did a lot for Ron. I read the article that you did with him and it was a great article, and you could see by the way he was responding to what you were asking him that he wanted to be more involved in boxing. Boxing was his life and he loved the game of boxing and he made the best out of his chance at boxing. Ron Lyle was a great fighter and even better human being. I'm just so hurt that he's not with us no more, man, and I'm still waking up with Ron Lyle on my mind. He was just such a knd and genuine person and you can't forget about a Ron Lyle!"
[ Follow Percy Crawford on Twitter @MrFighthype ]