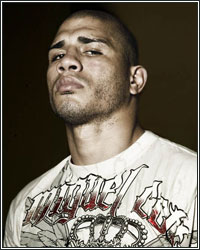 "He means nothing to me," stated WBA Jr. Middleweight champion Miguel Cotto immediately following his 10th round TKO victory this past Saturday. Although those words were meant for his rival, Antonio Margarito, perhaps they should have been directed towards his promoter, Bob Arum. It's no secret that the relationship between the two has been strained ever since it was discovered that Antonio Margarito attempted to use illegal handwraps in his bout with Shane Mosley. While promoter Bob Arum staunchly defended Margarito, professing his innocence to minimize the punishment he would receive, Cotto was convinced that he used those same illegal handwraps in their first bout, expressing his opinion that Margarito should be banned for life and making it clear that he would "never make another penny off of my name". Ultimately, however, Arum would have his way, convincing Cotto the best way he knows how, with the help of the almighty dollar. With his Top Rank Promotions contract now coming to an end though, perhaps now is the time for Miguel Cotto to look out for himself instead of being manipulated by a promoter who is forcing his own agenda onto him. Considering the fact that he's still a major draw in a sport that's short on pay-per-view attractions, maybe Miguel Cotto should look at all of his options and pursue the best one that's in his own financial interest.

Prior to Saturday's bout, promoter Bob Arum promised Cotto a clash with WBC middleweight champion Julio Cesar Chavez Jr. should he walk away victorious. It's a fight that Cotto had previously expressed interest in, and it appeared to be in the works for December of last year, but ultimately, Chavez Jr. opted out of the fight. At that time, the bout would've taken place at jr. middleweight, but since then, Chavez Jr. has now grown into a full-fledged middleweight. Given that Cotto weighed in this weekend nearly 2 pounds under the jr. middleweight limit of 154 pounds, one has to wonder if a move up to middleweight is truly in his best interest. That being said, it wouldn't be the first time that Cotto has been asked to do something that didn't serve his best interest.

In 2008, when Manny Pacquiao moved up in weight to challenge Cotto, it was Cotto, the champion, who was forced to fight two pounds below the 147-pound limit, a move that Pacquiao himself admitted was crucial in giving him an advantage in the fight. Although Cotto would weigh-in at the 145-pound catchweight, there were reports from his camp that it was a struggle to make the weight, which was no surprise considering that he had never fought below 146 pounds since moving up to welterweight 2 years prior. Furthermore, to satisfy the demands of Pacquiao and his trainer, Freddie Roach, Cotto was forced to put his WBO welterweight title on the line against his wishes. "If Pacquiao wants a title for the fight, it will have to be at 147," Cotto would proclaim, arguing that if he was being forced to fight below the allowable limit, then he shouldn't be forced to put his title on the line. Instead of looking after the interest of Cotto, however, promoter Bob Arum would support the desire of his opponent.

When Cotto was talked into giving Antonio Margarito a rematch, he tried to pull a page out of Manny Pacquiao's book, requesting a catchweight of 150 pounds, as well as a next day weigh-in limit of 160 pounds, in hopes of giving him an advantage against the naturally bigger opponent. Despite the fact that Margarito had just fought Pacquiao at a catchweight of 150 pounds, he was adamant about facing Cotto at the jr. middleweight limit of 154 pounds. Once again, instead of looking after the interest of Cotto, promoter Bob Arum would support his opponent, first denying that the fight would take place at a catchweight and then ultimately convincing Cotto to agree to Margarito's concession of fighting just one pound south of the 154-pound limit.

For years, Miguel Cotto has been a loyal Top Rank fighter, and yet, he's continuously put into a position where he's the one being forced to compromise. If his own promoter isn't going to start looking out for him, going out of his way to fight for what he wants, maybe it's time for Miguel Cotto to start looking out for himself. With his Top Rank contract nearly at an end, perhaps now is the time for Cotto to speak up and do what's best for him, instead of what's best for his promoter, and seek out the biggest financial fight available to him - a fight that Bob Arum prevented him from having many years ago - a matchup with undefeated pound-for-pound champion Floyd Mayweather.

It's a fight that Cotto has wanted for quite some time, ever since the two shared time training at the Top Rank Gym when they were both still being promoted by Bob Arum. In fact, rumor has it that back then, Mayweather would purposely show up late during his alotted time slot just to agitate Cotto, who was scheduled to train immediately after him. "He always is acting like that, like he is the owner of everything," Cotto would say at the time. In June of 2005, shortly after Floyd Mayweather's 6th round stoppage of Arturo Gatti, it looked as if both fighters were on a collision course, but it was promoter Bob Arum who felt as though the fight wasn't quite big enough to make, stating, "I think it's too soon...Obviously in a year from now, whether it's at 147 or 140, that will be the Leonard-Duran fight of our generation. But it's not ready yet, we've got to build Cotto up more." With it looking more and more like Arum is still unwilling to put forth a serious effort to enter into negotiation to make a mega-fight between Manny Pacquiao and Floyd Mayweather, perhaps now, more than ever, is the time for Cotto to get the opportunity that he's been waiting for. Mayweather already has a date and a venue. If it's not going to be Pacquiao, then maybe Cotto can take advantage of a golden opportunity.
[ Follow Ben Thompson on Twitter @fighthype ]