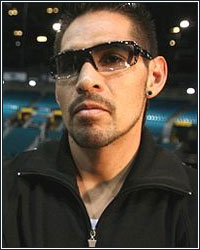 Is Showtime pulling the rug from under HBO in 2012? Antonio Margarito wants to fight again, but will he be able to? Does Robert Guerrero need an intervention to be brought back down to reality? Check out all this and more on this week's "From Pillar to Post"!

Margarito Should Face Imposed Retirement

I think everybody knew coming into Cotto-Margarito II this weekend that Margarito's eye was not only going to be a target for Cotto, but also for the incompetent and greedy officials of the NYSAC, who allowed the fight to happen despite Margarito having the equivalent of a fake eye. Well, the end came in the 9th round with Margarito's eye totally shut, which should also fittingly shut the door on his legacy of dishonesty and malice, but Margarito seems intent on fighting. Although America is the land of the free and the home of the brave, it's looking unlikely that a scumbag criminal like Googly Moogly Margarito will ever fight here again due to the unlikeliness that the three major athletic commissions may not sanction him at all.

California has yet to reinstate his license after the illegal wraps were found, Nevada respected the decision of California, and while New York may have let this fight happen, they aren't going to take another chance with him again. His time as an upper-echelon fighter has ended as he has gone 1-3 in his last four. He shows no punching power without his loaded hand wraps and with a horrifically damaged eye, coupled with never learning defensive fundamentals, who in their right minds would license such a liability?

I'm sure he'll fight in Tijuana, Mexico City, and the sort, but just because he can doesn't mean he should. As you guys can probably tell, I don't like Margarito at all and I firmly believe he should be in prison making sweatshirts as opposed to in a boxing ring making millions of dollars, but I don't want him to go blind. If this is the end of Margarito, then good riddance and I hope he finds solace in retirement, but let's hope that boxing never has to see him again.

Paul Williams To Headline Showtime Card In February

Another H(aymon)BO fighter is making the jump to rival network Showtime as Paul Williams will be the featured attraction in a doubleheader that will also feature Erislandy Lara, who lost to Williams in one of the worst robberies in recent memory. No word on the opponent for either fighter, but Sergei Dzinziruk and Cornelius "K9" Bundrage are the likely B-siders for either. It seems that Showtime may be building for a Lara-Williams rematch down the line and are continuing to build their schedule, whereas HBO has yet to announce their plans.

Outside of Floyd Mayweather's May 5th return against somebody not named Robert Guerrero, the closet thing HBO has to an official fight is Devon Alexander vs. Marcos Maidana with James Kirkland on the undercard againt Carlos Molina. Though I believe HBO will regroup quickly when new President Ken Hershman officially takes power next year, it looks like Showtime has drawn first blood on the "Network of Champions."

Somebody Must Stop Robert Guerrero

When Robert Guerrero pulled out of his fight with Marcos Maidana last August due to a shoulder injury, only a few months went by before it's starting to look as if maybe he was really suffering from delusion, as he's now on a crusade saying he should…nay…he MUST fight Floyd Mayweather this May. Writers and respected boxing personalities are arguing his case, which baffles me because Guerrero hasn't done anything to mandate a shot with Mayweather. That's not a matter of opinion, it's a matter of fact. Had Guerrero beaten Maidana, like I expected him to, he still would have a slim to nothing chance, but it could've put him in a position to challenge champions Erik Morales or Amir Khan and increase his chances to "slim."

Why doesn't Guerrero fight Morales or Humberto Soto for the time being? Both fighters bring a large Mexican following and would be an easy night of work for him. Better yet, challenge Lucas Matthysse or the winner of Alexander-Maidana or Berto-Ortiz II and create the casual fanbase needed for Mayweather to bat an eyelash. I like Guerrero a lot and I like his talent, but he needs to seriously make his statements in the ring and not overflowing press releases in my inbox.

Danny Howard can be reached via e-mail (dhoward@fighthype.com), Twitter (@DBHoward126) and on Facebook.