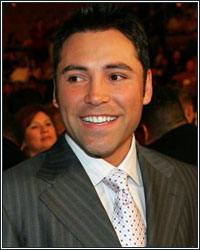 "Golden Boy, Amir Khan, and Peterson want the rematch. There will be a rematch," stated Golden Boy Promotions President Oscar De La Hoya, who made it clear during the post-fight press conference that there will be an immediate rematch between jr. welterweights Lamont Peterson and Amir Khan. Fighting in his hometown of Washington DC, Peterson upset the apple cart, scoring a split decision victory over Khan putting a hold on Golden Boy's future plans for their rising star. De La Hoya insists that the referee played a major role in helpling Peterson secure the victory by giving two unwarranted point deductions to Khan for excessive pushing.

"I just want to throw this out, okay, just so you can have it, that Khan was deducted two points. Now, the first point, okay, we can deal with. The second point, now people are asking, scratching their head, 'What happened? What went on? Why was the deduction? What happened?' So if that point isn't deducted, the fight is a draw. If the two points, weren't deducted, then Amir Khan wins, so I just wanted to throw that out. I just wanted to throw that out," De La Hoya would explain to the media, planting the seed to the media in attendance before either fighter took to the podium.

With or without the point deductions, the fight was still extremely close and could have swung either way by one or two rounds depending on what you look for when judging. While both fighters have already agreed to an immediate rematch, Golden Boy Promotion and Team Khan still plan on launching an investigation with the Discrtic of Columbia Boxing and Wrestling Commission regarding the actions of the referee and the scoring of the fight.
[ Follow Ben Thompson on Twitter @fighthype ]