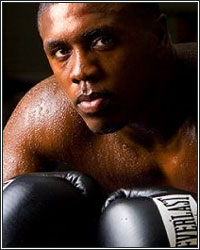 The eagerly awaited 12-round fight between Andre Berto and Victor Ortiz is a rematch of a fiercely contested, multiple-knockdown affair on April 16 that Ortiz won by a unanimous decision (114-112, 114-111 and 115-110) while capturing Berto's World Boxing Council (WBC) 147-pound title. Both fighters were knocked down twice in the fight, with Berto being dropped in the first, Ortiz going down a round later and each of them hitting the deck in a wild sixth round that many are calling the Round of the Year.

Quotes from Monday's press conference are below:

ANDRE BERTO

"I have put in the time and worked very hard to get to where I am.

"This is a tremendous opportunity. I'm ready to get it on. I've had to improve my game. I've had a hard, tough training camp and just have to stay focused and get the job done.

"I'm hungrier than ever. I predict a win."

TONY MORGAN (Berto's Trainer)

"Berto was just out of it the last fight. He tried to come in light. He was completely deficient. We found out after that he was anemic, but no excuses. Victor fought his butt off. I'm not making excuses. I'm just saying Berto wasn't 100 percent. This time, we'll be 100 percent and we'll see the true outcome. I think we knock him out. I just hope for a good fight."

STEPHEN ESPINOZA (Executive Vice President, General Manager of SHOWTIME Sports)

"I'm very excited and proud to have this as my first official press conference. I'm more excited and more proud that this is the first fight that I acquired in my position as Executive Vice President (and General Manager) of SHOWTIME Sports and Event Programming. This fight is the most compelling, most exciting, most highly anticipated fight available. That's why it was my No. 1 priority from the very first minute I accepted the position with SHOWTIME…to make sure that this fight appeared on SHOWTIME.

"Not only am I excited and proud to have this as SHOWTIME programming but all of my colleagues are excited as well. We will be receiving the support of our parent company, CBS and all of its platforms, which includes the free television network, CBS Interactive and other CBS Sports Networks. All of these plans will be developing more as time goes forward.

"When they are deserving, we'll be airing what used to be non-televised undercards on SHOWTIME EXTREME before the telecast begins on SHOWTIME. This will be an opportunistic play for our network based on multiple factors. SHO EXTREME has blossomed into one of the strongest cable television and sports programming outlets. SHO EXTREME is where we replay all our boxing and MMA events, and the rest of our award-winning sports programming such as Inside the NFL, Inside NASCAR, The Franchise.

"This is going to be an amazing fight between two of the brightest young stars in the sport and that's yet another reason why it was important for SHOWTIME to acquire this event. These are two world-class athletes and just as importantly, if not more importantly, two world-class young men, very articulate, very personable and they are exactly the type of young men that SHOWTIME wants to be in business with. I'm looking toward to February 11th. It's guaranteed to be a great.''

"Repeat or Revenge: Ortiz vs. Berto II" is presented by Golden Boy Promotions and DiBella Entertainment. Tickets, priced at $300, $150, $100 and $50, are on sale and are available at all Las Vegas Ticketmaster locations (select Smith's Food and Drug Centers and Ritmo Latino).

Ticket sales are limited to eight (8) per person. To charge by phone with a major credit card, call Ticketmaster at (800) 745-3000. Tickets also are available for purchase at www.mgmgrand.com or www.ticketmaster.com.