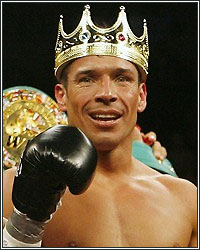 Moments ago, at a press conference held in Buenos Aires, Argentina, middleweight king Sergio Martinez made a shocking announcement, informing the media in attendace that not only will he no longer defend his WBC diamond belt, but he's also not interested in fighting on HBO. "I'm not going to defend the Diamond belt anymore. The only title I'm going to defend from now on was the one I conquered after beating Kelly Pavlik, which is the Ring Magazine title...I won't ever defend the WBC again," Martinez explained. "I'm not a hostage!"

Martinez held the press conference to express his displeasure with the WBC's decision to allow Chavez Jr. to once again avoid a matchup with him in favor of a title defense against Marco Antonio Rubio. Chavez Jr. earned his WBC title when the organization decided to strip it away from Martinez, instead awarding him with their Diamond belt and a promise of a future matchup down the road. At the 49th annual WBC convention held earlier this month, Martinez was under the impression that the organization would stay true to their promise when WBC President Jose Sulaiman ordered Chavez Jr. to face Martinez no later than March 2012, but just a couple of weeks later, Sulaiman would do an about face, changing his mind and allowing Chavez Jr. to move forward with a Rubio bout scheduled in February.

"I hate the cowardness in which Julio Cesar Chavez behaves, as well as his coach Freddie Roach, his promoter Bob Arum, avoiding every day the fight with me and building a boxing world which is a lie...I never thought that a world champion could avoid somebody in this way. Unfortunately, this sort of attitude can hurt our sport," Martinez continued. "I won my belts in an honest way. I'm proud of having had them and having represented the WBC. For me, it's the organization for excellency in the world. It's the most important one, but I have to clarify that I'm not a hostage of the WBC. I'm grateful to the people of the WBC that always have supported and I know they will continue supporting me, but I must say, I'm a boxer of the WBC, not a hostage of the WBC that you can modify or move according to third party's interest. For my dignity, for my pride, and for my manhood, I must step aside."

Martinez also made it clear that he's also not pleased with the manner in which he's been treated by the network that has been televising his most recent fights, HBO. "I also want to say to HBO that what they did with me was a mistreatment and I'm also stepping aside of the HBO ship. I'm not representing HBO," he added. "I don't agree with what HBO did with me. That's why I'm leaving them. They are also an accomplice. They also have influence on this lie."

"What I'm doing today is giving a punch to the table in order for everybody to think about what's going on and to make a thought to it. I want everything to be without any lies. They are mistreating not only me, but also boxing."
[ Follow Ben Thompson on Twitter @fighthype ]