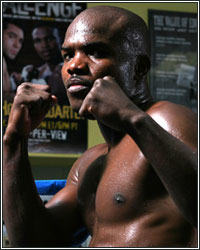 It seems like fans are split down the middle when it comes to their opinion of the proposed clash between 8-division world champion Manny Pacquiao and undefeated jr. welterweight champion Timothy Bradley. Although I received a fair share of emails from fans who were disappointed in the selection of Bradley, I also received a number of emails from fans who were extremely excited about the prospect of Pacquiao facing a young, athletic, energetic and hungry champion. Check out what those fans in support of the fight had to say about Pacquiao taking on a young threat in Bradley.


---

On the contrary I'm excited to see Pacquiao fight Bradley! I'm a huge boxing fan and I would pay for this match! Since Pac-Marquez II, I feel that Pacquiao has been matched upon very favorable circumstances for himself. Bradley although a little inactive hasn't been in too many wars and he wasn't beaten up in his prior match; it would be ridicules to demand a catch-weight for Bradley since he just came up from 140. Also, I don't consider Bradley tailor made for the Pacman. For a long time boxing fan like myself… a win over Bradley at 147 would not only gain huge respect from the hardcore boxing fan but a win could also be huge for Pacquiao's legacy in my book. - Damon, Boxing Fan, 30yrs, Tuesday Night Fights fanatic

GR: Damon, I agree that Bradley could legitimately be a threat to Pacquiao since, like you said, it's been a long time since he's faced someone as young, fresh, athletic and energetic as Bradley will be. That said, I'm just not convinced that the fight itself will be entertaining, mainly because I can't remember too many entertaining moments in any of Bradley's 29 fights. That's not a knock on Bradley at all. I've just always viewed him as the type of fighter who, simply put, gets the job done. In other words, it might not be pretty, but it works. Or in the immortal words of Al Davis, "JUST WIN, BABY!" Personally, I see it being an ugly fight with a lot of mauling on the inside and several headbutts to boot. On top of that, they're both "nice guys", so after every clash of heads, expect to see the "Mosley glove touch" before action resumes. I just have a bad feeling that the combination of the two styles will result in a messy affair that will see the referee involved much more than we like. I'm just not feeling the sizzle in this one. I definitely don't think a win over Bradley will be "huge" for Pacquiao's legacy. I mean, Bradley himself has barely begun defining his own legacy, so a win over him at this stage of his career is really meaningless for Pacquiao. Just my two cents though.

Pac got to bounce back hard & fighting Bradley is the best option since the fight with mayweather is over - Jason Askew

GR: Jason, I have to admit, Bradley is a great option for Pacquiao. I'm just wondering if it truly was his best option. From a financial point of view, he very well might be, as Marquez would have commanded a bigger piece of pie. With Bradley, they can probably offer him a career-high payday of $3-$4 million, allowing Pacquiao to keep the lion's share of the pot. Marquez appeared to be standing firm on his demand of wanting much more than the $10 million he was originally expected to get for a 4th fight, which means Pacquiao would have had to give up much more. That said, Pacquiao is also taking a big risk here, as his pay-per-view numbers could take a serious hit by facing an unknown fighter like Bradley, who's moving up from a lower division and is considered to be a light puncher. Although I don't think he'll do less than 1 million buys, there certainly is a possibility. To make matters worse, there's a very real possibility that Bradley, like Marquez, could make Pacquiao look bad. It's one thing to look bad against a Mexican legend and future Hall of Famer in Marquez; it's another thing to look bad against an unknown Bradley. Time will tell if Bradley truly is the best option, but he certainly will give Pacquiao an opportunity to bounce back hard.

In my opinion Pacquiao VS Bradley is a fight I'd want to see. I think a lot of people underestimate Bradley. Just as people say his fights are boring, they also say that about Floyd Mayweather who is the top P4P in the sport. Bradley will be a huge underdog against Pacquiao, but I say Bradley beats Pacquiao. Pac hasn't fought anyone with Bradley's skill level besides Marquez and I think Bradley beats Marquez as well. Remember what I say, If Pac fights Bradley, their will be No Mayweather fight........ - Jrocafeller

GR: For me, it's not so much about Bradley being a "boring" fighter. It's more about his fights being somewhat ugly. Like I said, he's the type of guy who always finds a way to just get it done. It might not be pretty and it might not be exciting, but it's effective. In this case, however, I just don't see him pulling off the upset. So long as Pacquiao is standing at the end of 12 rounds, he'll get the decision, and Bradley just doesn't punch hard enough to knock him out. Considering that Marquez couldn't get the nod after having the success he had, Bradley would have to SERIOUSLY box Pacquiao's ears off, and I doubt that happens. Pacquiao may lose 6 or 7 rounds, but he won't lose 8, and if the fight is that close, you already know he's going to get the nod. Remember what I say, regardless of Pacquiao fighting Bradley or not, there still won't be no Mayweather fight.

Here is my thing , u say Bradley is not that exciting but what do u base that on? When he fought Alexander? When TB fought Campbell , Holt, Peterson , Whitter and even Casamayor he was entertaining and constantly came forward, when TB fought Devon it was Devon that was holding and and making the fight a drag, Bradley was constantly comming forward. Why when Pacquiao fights a reluctant Clottey people defend Pac but if Floyd or Bradley fights in boring fight their always the blame? Mayweather had been called boring for years by Merchant and Lampley and now he's the biggest star in the sport. You don't understand how boxing works , if u put 2 boxers in there with great defense it wont be fight of the year because they don't make as many mistakes, but if u put Bradley in there with a Maidana (whose easy to hit and makes mistakes) u would see the best Bradley. Pacquiao is not the best when it comes to defense ,so i can't see this being a boring fight. I beleive that this is pacs hardest fight, pac has difficulty with headmovement and counter punching, lets not forget when pac was going to fight Floyd he wanted to hire TB as chief sparring partner.Pacquiao had major problems sparring with Curtis Mayfield and few other slick boxers, TB has the same style. I belive Bradley will win this fight shock u and the rest of the world - Dontae Williams

GR: What do I base that on? Ummmmm...I don't know...I guess all of his fights. LOL. Does he constantly come forward? Absolutely, but even with that, I just can't remember any of his fights where I was wowed. I don't blame him for it; that's just his style. It's kind of like Bernard Hopkins. I would never knock Bernard for his victories, but honestly, can you remember many exciting moments from any of his fights? It's just his style of fighting; he does what he needs to do to get the job done. I DEFINITELY think this fight won't live up to your expectations. Expect a lot of mauling and headbutts; that's about it. And for the record, I don't think I'd lump Tim Bradley into the "slick boxer" category. He's not slick at all in my opinion.