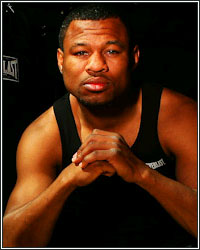 "I'm all for it. I'm just trying to stay in Big Bear and stay in shape," stated three-division world champion Shane Mosley, who shared his thoughts on recent rumors linking him to a potential May 5th clash with WBC jr. middleweight champion Saul "Canelo" Alvarez. Although Mosley himself has yet to hear if there's any truth to those rumors, it's a fight that he welcomes and has been eyeing for quite some time. As far as he's concerned, it makes perfect sense for Golden Boy Promotions to feature the matchup on the undercard of Mayweather vs. Cotto.

"Mayweather ain't going to want K9 to be fighting Canelo on his undercard. He'd rather have me fight Canelo on his undercard. That's going to bring more money to him and Cotto. You could ask either one of them, 'Who do you want him to fight, K9 or Shane?' All of them are going to say, 'Shane'," Mosley explained, noting that the fact that he's faced both Mayweather and Cotto makes him the perfect litmus test for Canelo, who he considers to be "green; very green."

"He's going to feel something different from me. That's just the truth," Mosley continued, suggesting that Canelo has yet to face an opponent with the type of credentials that he brings to the table. Not only does Mosley think he's a good opportunity for Canelo, but he also thinks Canelo is a good opportunity for him, as it would allow him to prove that he still has more fight left in him than people think. "I just want to go in there and do what I need to do; prove myself and then go on to bigger and better things," he added. "I mean, I'm the only one that rocked Floyd like that and almost had him out. Maybe if I can get him again, maybe I can have him out. You never know."
[ Follow Ben Thompson on Twitter @fighthype ]