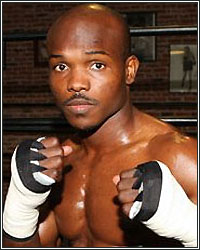 "That doesn't bother me, man. It just shows Freddie is a little worried about this fight. That stuff doesn't get under my skin. People have said worse things about me before," stated WBO jr. welterweight champion Timothy Bradley, who responded to recent comments made by Hall of Fame trainer Freddie Roach, accusing him of being a dirty fighter. According to both Roach and Pacquiao, Bradley intentionally uses his head to inflict damage upon his opponents. It's an accusation that Bradley has heard before from his opponents, but he's not bothered by it at all and he doesn't plan on making any changes to his style of fighting.

"He can complain and call me a dirty fighter, this and that, but at the end of the day, we still have to get it on. The last time I checked, it's a boxing match, it's a fight. You know, it's a fight. It doesn't matter what English he's trying to work. It's not going to bother me and it's not going to stop me from doing what I do," he explained during a recent interview with his local newspaper, noting that headbutts are common in boxing and it's not something that he does on purpose. According to Bradley, even Pacquiao has been at fault at times when he's involved in a clash of heads. "The headbutt situation, I don't do it intentionally. I will say this, they say I come in with my head, Manny comes in with his head as well. I watched many of his tapes. I've seen this guy, he's a great fighter, best in the world, and he does it. He comes in with his head as well," he continued.

Bradley is convinced that Roach's comments are a clear sign that he's rightfully concerned about him being Pacquiao's next opponent. "Freddie just has to worry about Manny Pacquiao. All the talk, whatever. It just sounds like he's worried. It sounds like he's a little worried," he added, confident that for the first time in a long time, Team Pacquiao has something to be worried about.
[ Follow Ben Thompson on Twitter @fighthype ]