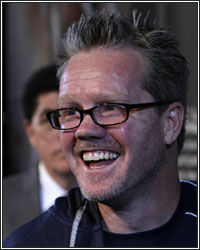 "Bradley has such a big mouth until it's time to fight," stated world-class trainer Freddie Roach during an interview in May of 2011. Frustrated with the fact that Bradley refused to face his other star pupil, Amir Khan, Roach expressed his opinion that the WBO jr. welterweight champion was afraid to step into the ring to unify the titles. "You know, let's face it, I know you're a tough guy Bradley, but you know what? Fight Khan! You said you wanted us. Now you're scared," he added.

Unbeknownst to Freddie at the time, Bradley had a much bigger fish to fry as he had already set his sights on the trainer's brightest star, Manny Pacquiao. While Khan and Roach were hoping to lure lure him into a summer showdown that year, Bradley had already made the decision to sit on the shelf until his contract with Gary Shaw Productions expired, allowing him to become a free agent and sign with Top Rank Promotions just four months later. In his first fight back since Roach made that statement, Bradley was already fighting another southpaw, Joel Casamayor, on the undercard of Pacquiao's last fight. Now, just a few months after that, Bradley has landed the assignment he was hoping for all along, a showdown with pound-for-pound champion Manny Pacquiao.

Bradley received a lot of criticism - from fans, the media, and obviously Khan and Roach - for his decision to pass on the title unification, but it looks like he'll be the one who gets the last laugh. Although Khan would move forward without Bradley and look impressive in a 5th round KO of Zab Judah, he would subsequently lose a split decision to Lamont Peterson, who Bradley had already soundly defeated two years prior, winning nearly every round in the process. Furthemore, regardless of if he wins or loses against Pacquiao, Bradley will make the biggest purse of his career, which could be anywhere between $3 and $5 million, at least 3 times as much as he would've made to face Khan. Assuming he does suffer his first loss to Pacquiao, there's no shame in that and the Khan fight will still be there for him. Quite frankly, although Roach may think Bradley has a "big mouth", it's clear now that there was good reason to turn down a fight with Khan, and the fact that he's willing to step into the ring with Pacquiao proves that he's definitely not scared.
[ Follow Ben Thompson on Twitter @fighthype ]