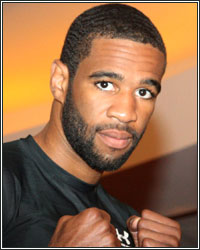 According to Lem Satterfield of RingTV.com, newly-crowned IBF & WBA jr. welterweight champion Lamont Peterson has agreed to give former champion Amir Khan the rematch he's been hoping for. "We have indeed reached an agreement. I believe that the rematch between Lamont and Amir is one of the most anticipated fights, and both of these young men are tremendous athletes and they gave it their all in December," Golden Boy Promotions CEO Richard Schaefer revealed. The bout will take place on May 19 at Mandalay Bay in Las Vegas, Nevada. The two fought this past December in a close fight that saw Peterson winning a narrow split decision after Khan was deducted points for pushing.

Immediately after the fight, Golden Boy Promotions was eager to stage an immediate rematch. They would later file a protest on behalf of Khan in hopes of getting the decision changed to a no contest, citing poor officiating and discrepancies in the scorecards. Although they didn't get what they were hoping, ultimately, the WBA would order the immediate rematch. However, Peterson, who is a free agent, was also considering an offer from Top Rank Promotions for a potential summer clash at Cowboys Stadium with future Hall of Famer Juan Manuel Marquez. After months of weighing their options, they've finally decided to move forward with the rematch. Sources tell us that Peterson wasn't too eager to face the Mexican legend in what would essentially amount to his backyard, but they also received an offer from Golden Boy Promotions that they couldn't refuse. Apparently, on top of the original $1 million purse guarantee, Peterson will also be getting a 50/50 split of the UK and worldwide revenues.

With Peterson's decision, Marquez is now left without a solid dance partner. Promoter Bob Arum was hoping to match Marquez against Peterson with the winner getting a November clash with the winner of Pacquiao vs. Bradley. Considering that Bradley has yet to put pen to paper and sign a contract to face Pacquiao, you can't help but wonder if this latest news might affect Arum's plans to move forward with Pacquiao vs. Bradley.
[ Follow Ben Thompson on Twitter @fighthype ]