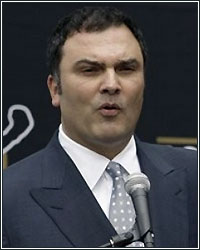 "This will be the event of all events; a celebration of our sport on the biggest pay-per-view date, May 5," stated Golden Boy Promotions CEO Richard Schaefer, who was pleased to announce that Saul "Canelo" Alvarez vs. "Sugar" Shane Mosley will be the co-feature to Mayweather vs. Cotto on May 5th at the MGM Grand Garden Arena in Las Vegas, Nevada. All signs are pointing to a blockbuster event, as the addition of Alvarez vs. Mosley to the Cinco de Mayo event is sure to tap into his huge Mexican fan base, and according to sources, Golden Boy Promotions isn't done stacking the card.

Multi-division champion and fellow Mexican Robert Guerrero was already offered an opportunity to face former jr. welterweight champion Paulie Malignaggi on the card, but according to Malignaggi, Guerrero, for whatever reason, turned the fight down. "Where one door closes, another door opens," remarked a source, who suggested that they're working on a number of different fights that will make Mayweather vs. Cotto the can't-miss event of the year. Former undisputed jr. middleweight champion Winky Wright also revealed that he would be making his return to the ring on May 5th, telling his follower on Twitter, "You asked for and you got it. To all my fans expect to see me back in the ring May 5th on HBO." It's rumored that he could be facing undefeated middleweight Peter Quillin, but the bout is still far from being finalized.

No matter what other fights are added to the card, the fact that it features the biggest draw in Floyd Mayweather, as well as top draws in Miguel Cotto and Saul Alvarez, who bring in their own fan base, virtually guarantees a PPV success. "It will be the biggest event of 2012 and the biggest event Las Vegas has seen since De La Hoya vs. Mayweather fight," Schaefer added. Whether or not it truly is the biggest even Las Vegas has seen since De La Hoya vs. Mayweather remains to be seen, but it very well could reach Team Cotto's prediction of 1.5 million PPV buys.
[ Follow Ben Thompson on Twitter @fighthype ]