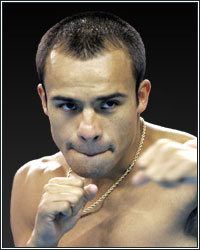 Boxing Scribe Vivek Wallace brings his Left-Hook Lounge mailbag to FightHype.com, answering questions for fans and giving his own unique perspective on all the latest current events in boxing. This week, check out his response to fans as they discuss the return of Paul Williams this weekend, the rematch between Lamont Peterson and Amir Khan, a potential clash between Juan Manuel Marquez and Brandon Rios, and much more.

Jimmy L. (Houston, TX): I'm a pretty big Paul Williams fan and I don't think the media should write him off the way they have. Do you think he can bounce back to gain his old form if he wins against Ishida?

Vivek W.: In my most humble opinion, Williams is a fighter whose better days appear more than likely behind him. Only a few years ago, I can remember telling several fight fans that I view him as the sports most legitimate "Dark Horse". The basis of my argument was that despite him lacking technique and some of those elements that I personally like to see in fighters, he seemed to have the heart, workrate, and desire to overcome the odds at all cost.

Since that time, we've seen a very drastic change in Paul, and as much as it bothers me to say, I'm not too sure it's reversible in the sense that he appears quite comfortable in life and not quite as motivated as he once was. The interview clip that ran on HBO prior to his fight against Lara was very key to me. It's one thing to judge a person's actions, and typically actions speak louder than words, but in this case, I think it was his words that spoke loudest, particularly in the scene where he mentioned that he wouldn't consider a change in his corner and the other point articulated about him being content in life with his real estate investments and so forth.

For me, it just set the tone that win, lose, or draw, this is a man who plans to take a few more fights, secure his financial future, and walk away, regardless of how we think he measures up. There's a side of me that can't blame him to a degree, because as men, we all aim to support our family and live comfortable. But the fight fan in me just hates to see a guy with all he has to offer pull the plug like that. I really think he can regain form with a couple solid victories under his belt again, and this is a good starting point, but my thing is, you should be in it to win it or not in it at all.

Is he in it to win it at this stage? I hope so. One thing about Paul is that he will fight anyone. That alone makes him worthy of contention in my book, because few in the sport actually take on all comers. But that being said, the only one who can truly tell us if his heart is still in it and whether or not he can "regain his old form" is him. It all starts when he steps in the ring next Saturday night. Stay tuned....we may finally get a definitive answer to this question one way or the other.

Alenn N. (Brooklyn, NYC): Amir Khan and Lamont Peterson are apparently set to square off again. How do you see the rematch playing out?

Vivek W: I fall in that not-so-silent majority who feels that Khan doesn't exactly deserve this rematch so soon, but I'm glad it's happening, although things could really take a bad twist for one of the men involved. I felt the way he handled both Prescott and Maidana when it came to their request and the fan request for rematches was completely wrong. Now, when the tables are turned and it's him that wants the rematch, he goes to every extent possible, attempts to go legal, and all these other shenanigans, lashing out until he gets his way.

I don't think he should have been granted the rematch at this time, but I'm curious to see how he'll respond if he loses again. Would he have the integrity to lay blame on himself and simply move on, or would he serve us a bevy of excuses again on why he didn't get the results he said he would, like he has in the past? All that being said, one thing I'm very uncomfortable with going into this rematch is the possibility of Khan being on the beneficial side of a questionable decision, and rather than honoring Peterson in what should ultimately be a rubbermatch in the making, instead walk away to land a big money fight elsewhere.

I have no doubt in my mind that Golden Boy Promotions has wanted to leverage their position to setup a Khan/Mayweather fight down the road, and it can't happen if Khan doesn't handle his business here. I can't see Khan not getting the nod on the scorecards if these two men face off again. Too many politics in this sport, and too much money to be made if Mayweather defeats Cotto and can't land Pacquiao. This is my biggest fear for Peterson going in. The ONLY way I would have advised him to take this fight is if Khan had contractually promised a rematch in the event that he loses. It's only fair.

When the two finally square off, I think we'll be treated to another great night of action, but honestly, Peterson will learn that the integrity his hometown judges showed in Washington D.C. is far from the criminal lack of integrity often found in this sport. Bottom line....I don't see a way he can win unless he absolutely dominates the fight. Anything remotely close and he'll be back on the outside looking in with no "window" of opportunity, and no door open or unlocked for re-entry. Sad, but true.

Andres H. (Ontario, CA): A while back you spoke on FightHypeRadio about wanting to see Juan Manuel Marquez face Brandon Rios and now it appears that could happen at some point. If they actually met, who do you like in that matchup?

Vivek W.: I've always felt this would be a great fight; two very strong men, neither will back up, and both will come to fight. As great as that sounds in theory, to be quite frank, I think this fight would be as one-sided as it could get. Rios is very strong; tenacious, to say the least. That being said, I really think the skill and prowess of Marquez is simply too veteran savvy to fall victim to that old school, Mexican beloved stalk-til-they-can't-walk approach. Pacquiao is very aggressive and very skilled at being aggressive. Ask him how effective those same combinations that floored the likes of Cotto, Mosley, and others were against Juan.

Reality here is that Rios' youth and unrelenting pressure would make it a good fight, but he gets hit too much, and while he lands a lot too, Marquez has proven that even in his old age, he is still durable and can still send a laser straight down the pike on a frozen rope, with precision nearly unparalleled in the sport today. I won't go out on a limb and say that JMM definitely wins this fight, but I will say this:

Ever since moving up in weight, he seems very strong, and quite balanced. I think his accuracy and technical skill would serve him well against a bull like Rios, and while he could present Rios with a skill level he's never seen before, there's nothing new Rios could use to surprise him that he hasn't seen before. On the strength of that argument, I actually like Marquez to get the job done. And considering that Rios has had issues making weight and Marquez has found a comfort zone above 135 pounds, this is a fight that could be made at the jr. welterweight limit if necessary, nullifying excuses either way.

My prediction: JMM gets the nod on the cards....by at least 3 points when the final bell rings.

Vivek "Vito" Wallace can be reached at vivexemail@yahoo.com, YouTube (Vivek1251), Twitter (VivekWallace747), Skype (Vito-Boxing), and Facebook.