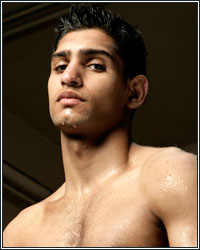 Will revenge be sweet for Amir Khan against Lamont Peterson? Does Mikkel Kessler really want to face Andre Ward again? Will Dereck Chisora be a true contender or just a pretender when he faces Vitali Klitschko? Get a view from the other side of the pond as FightHype UK correspondent Scott Smith gives his take on these questions and much more. Check it out!

Khan vs Peterson - Revenge to be sweet for Khan
Finally, the rematch has been agreed upon, with Peterson given his highest purse in his boxing career so far and a 50/50 split of the UK money. Now hopefully we can finally find out who is the better man. I expect Khan to win this rematch with a unanimous decision. I do acknowledge Peterson deserved to win the first fight, a result of a combination of Khan's points deduction, Peterson's plan to get in Khan's head, and Khan's inability to adapt during that fight. Come May 19th, however, I do expect normal service to be resumed and I don't believe Khan will be allowed to be drawn into the Peterson game plan again. Whilst Khan's comments in the press have angered and frustrated a lot of people, the kid does have talent, and whether people like it or not, the defeat to Peterson was self-inflicted. It is very unlikely he will make the same mistake again in my opinion. For me, one man is key in this fight and that is Freddie Roach. People have always been quick to heap praise on this man when his fighters do well, but it has been noted by people that do pay attention to detail that his two most prized assets seem to lack a plan B and lack that adaptability in a fight. This fight will be the perfect chance for the Khan camp to show the world that he can adapt during a fight, and that the Peterson loss was a minor hiccup on his road to glory.

Kessler vs Ward Rematch - Careful what you wish for Kessler.
Whilst preparing for his upcoming bout against WBO Super Middleweight champion Roberto Stieglitz, Mikkel Kessler, the former three-time world champion, had some harsh words for WBA and WBC champion Andre Ward, stating, "You can see why a lot of boxing fans are blasting Ward because he hasn't got the guts to leave his home base." Kessler needs to be careful what he wishes for. As entertaining as the first fight was, it would be very hard to have given Kessler more than two rounds, with him being a round and a half from being on the wrong end of a lopsided decision. I would predict that Kessler's attempts to lure Ward to 'neutral ground' will be unsuccessful, and rightfully so. Ward has earned his reputation as the King of the Super Middleweight division with controversy-free, resounding victories against the best guys out there. Almost every fight in the previous 2 years was a near perfect shutout, which has made him one of the most talked about guys in the boxing world at this current time. So without question, Ward reserves the right to draw a hard bargain. If Kessler comes through the Stieglitz fight with the WBO title in his possession, then he can bring an extra dimension to the table. Understandably, Ward has not committed himself to comment on Kessler yet, because if Kessler loses, what gives Kessler the right to face Ward? I expect the fight to happen later on in the year if Kessler comes through his next test, as I cannot see any reason why Ward would not take the challenge to add another title to his collection in a fight I can only see resulting in the same lopsided victory for him as the first fight.

Chisora vs Klitschko - Contender or Pretender
Chisora, unquestionably, was robbed against Robert Helenius in his last bout, but he is not ranked as one of the top 5 heavyweights in the world because, lets face it, if he was, Vitali Klitschko would not be facing him. Klitschko took a long time to finish off a much smaller and weaker Adamek in his previous fight, despite having him in trouble early on, and then he had the non-event that was the Solis fight, where Solis was unable to continue in the first round. It will be interesting to see what a much older and slower Vitali Klitschko's game plan will be going into a fight against a fast-paced brawler. I don't think making it into a brawl will do Chisora any favors. He will need to adopt a game plan that manages his stamina carefully throughout the fight, as we've seen him tire very easily in the Fury fight. However, a fast pace managed correctly is definitely the most suited approach if he is to have any success in this fight. UK viewers, remember you can catch this fight on Boxnation on Saturday evening.

Julio Cesar Chavez Jr. - Champ or Chump?
The belt he wears around his waist would say Champ; his selection of opponents and his clear reluctance to face Middleweight king Sergio Martinez would suggest Chump. Right now, I definitely would go with the latter. Chavez Jr. has had 47 fights by the age of 25, so are we going to base his career on quality or quantity. This scenario is baffling for me. The WBC ordered the bout to take place between it's two champions, but instead, Chavez Jr. goes ahead and adds another fighter, Marco Antonio Rubio, to his list of finished fighters, and then immediately after the bout, we hear that Andy Lee and Antonio Margarito are his next possible opponents. Give me a break! The man has had 47 fights. If he is not experienced enough to face Martinez yet, he never will be. Martinez will be 37 in February and has not got that many years left in the sport, so is it a case of the Chavez camp delaying the fight as long as possible, hoping Martinez gets too old, which seems like what the Pacquiao camp was doing before they fought Mosley? I will leave it for you to decide.