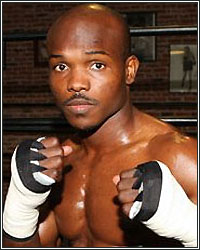 It's been a busy month in boxing so far, and the questions have been pouring in from the fans. Is Bob Arum looking to cash out Pacquiao against Timothy Bradley? How will Mayweather vs. Cotto play out? Is it fair for Chavez Jr. to be so much bigger than his opponents? Although I don't have all the answers, I do have an opinion, so check out what I had to say to inquiring minds who want to know.


---

Hey Ben. Wanted to know if you had the insider scoop on when the Mayweather/Cotto tickets will be on sale?? And do you see this fight as being competitive. I really dont i see cotto maybe having a little early success and then Mayeeather Dominates. Sincerly, Brandon Hall

BT: No clue on the tickets. In the press release they sent out announcing the press tour, which is taking place February 27-March 1, they said information on tickets would be announced shortly. If I had to take a guess, I'd say they'll probably go on sale March 2, the Friday after the last stop in the tour. As for the fight itself, I see Cotto being about as competitive as Victor Ortiz was in the first four rounds. After that, Mayweather will take over completely from there. Believe it or not, I wouldn't be surprised to see Cotto go down from a body shot, much like Henry Bruseles did.

On saturday i think we can all agree that JCC,jr look like a cruiserweight fighter in the ring. Regardless of what the commission should or did not do, I have issues with a fighter re-hydrating a large amount of weight on fight night. Do you think Boxing/Commision should constitute a re-hydration clause? In the Rubio fight, is it fair that he has to fight a fighter physically bigger than him (20lb)? I personally think JCC,jr is staying put at 160 because the level of competition at 168 is a lot greater. What's your oppinion on Saturday fight and the re-hydration issue. Thanks, Boxing titan

BT: I have no problem with any fighter blowing up in weight so long as they make their contractual weight. Chavez may have looked like a cruiserweight on fight night, but at the weigh-in, he came in under the 160-pound limit. If a fighter can suck down and make the weight without draining themselves so much that it affects their performance in the ring, more power to them. I really don't think it's unusual for a fighter to put on 15-20 pounds after the weigh-in, particularly during an era when a lot of guys fight in divisions well below their walk-around weight. Take Pacquiao for example. When he fought Marquez the second time, he weighed in at 129, but on the night of the fight, he tipped the scales at 145. That's 16 pounds right there. As far as I know, Alex Ariza likes to hyperhyrdate his fighters, meaning he purposely fills them up with extra fluids before the fight because he knows they're going to lose a lot of it while they're sweating over the course of 12 rounds. That's a big reason why a guy like Chavez will be much heavier on fight night. In my opinion, Chavez just gets a bad rap when it comes to weight simply because a lot of people want him to fail. As long as he can make 160, I see no reason why he would want to leave a division that he has an advantage in.

Whats up ben this ( blackscreenteam) we have been a huge fan of fighthype for many years and we glad that fighthype have a chances to follow the best fighter in the world floyd mayweather threw his daily life.Now that the champ decided his nexts opponent miguel cotto on may5 im looking forward to watching that fight of the year on HD.do u think that bob arum is now cashing manny pacquiao out on june9th by facing bradley who have a unbroken record knowing that bob arum is now looking for his nexts cashcow in years to come?? - Chris

BT: Thanks for the support. Is Bob Arum cashing Manny Pacquiao out on June 9th against Timothy Bradley? Absolutely not! Tim Bradley is the wrong color for Arum. Don't get me wrong, that's not an attempt to play the race card or anything like that. It's just based on recent pay-per-view trends, it's extremely doubtful that Arum would be able to take a black fighter with a nice persona and turn him into a "cash cow", even if he were to beat Manny Pacquiao. Simply put, the market just isn't there for that to happen. Case in point, Shane Mosley. Although the then undefeated Mosley looked spectacular after he moved up from 135 to 147 to defeat Oscar De La Hoya, the win never propelled him to become a major pay-per-view draw...and that was after a victory over The Golden Boy. Even when Arum had the young and talented Mayweather, he was never able to turn him into a cash cow. It wasn't until Mayweather played up the villain role when that finally happened. There's no way that Arum would be able to turn the unknown Bradley into a cash cow. If Arum is going to cash Pacquiao out, it's going to be against someone like Brandon Rios or Yuriorkis Gamboa, who ironically will be facing each other in April. If there's one thing that Top Rank does well, it's matchmaking. Bradley was picked for Pacquiao simply because they think he will come forward and make Manny look good. He's not a big puncher, so there's relatively no risk of Pacquiao being knocked out. In fact, I wouldn't be surprised to find out that the Top Rank braintrust thinks Pacquiao will knock Bradley out cold. Truth be told, I'm starting to lean a little that way myself. Expect an ugly fight, but at the end of the day, Pacquiao will get the win. And no, he won't retire after that fight either. He'll probably fight Juan Manuel Marquez again in November or December, with the winner of Rios/Gamboa making their 140-pound debut on that undercard. Then you might see Arum try to cash Pacquiao out in 2013 against that same guy (Rios or Gamboa). But against Bradley, no chance at all of that happening in my opinion.

What's up bro where u been, how u been man? I wrote u b4 but it kept saying your mailbox was full. I just wanted to get your take on Mayweather vs Cotto because I think my boy Mayweathers gonna win but I also think its going to be a competitive fight. Cotto looked great in his last fight with all the leg and head movement and on top of that their fighting at a weight of 154 which Mayweathers not used to. I pray to god Mayweather wins so we can hopefully do this Mayweather Pacquiao in Nov or Dec. Do u think they'll ever fight and if so when???... Hit me back bro - Dwight Arnold

BT: Same ol', same ol' my man. Needless to say, my mailbox has been filling up pretty quickly as of late, so I apologize for that. Truth be told, I think we've already seen a poor man's version of Mayweather vs. Cotto. Like I said, if there's one thing that Top Rank does well, it's matchmaking. Back in 2005, Top Rank served up Henry Bruseles, who I believe was trained by Cotto's uncle at the time, as a litmus test to see what a fight between Cotto and Mayweather would look like. In fact, prior to that fight, Floyd's uncle, Jeff Mayweather, wrote an article talking about that very subject. This is an excerpt of what he wrote:

"Bruseles is actually a test to find out how Miguel Cotto would fare if he stepped in the ring with Mayweather, Jr. It's no secret that Mayweather Jr. and Cotto are on a collision course, if young Cotto can keep himself in the 140 lbs. frame which he struggles to maintain. What happens in this fight between Mayweather Jr. and Bruseles will be the determining factor as to whether Cotto should start banging the drum about fighting Mayweather Jr. or should just remain silent and continue on his path to stardom with Mayweather Jr. not being a part of the equation until the boxing public demands it."

So what's my take on Mayweather vs. Cotto? I think it's going to look similar to the Bruseles fight, with the exception that Cotto may have added just a few more wrinkles and will likely look a little more competitive in the first few rounds. A tiger doesn't change it's stripes though, so after getting frustrated from missing the target, I think Cotto will resort back to some of his old habits and Mayweather will take over and dominate from there. As for the ending, well, that's up to Cotto. Will he continue to press forward with no quit in him, or will he simply decide to lick his wounds and live to fight another day, like many of Mayweather's past opponents have done? On May 5th, we'll find out.
[ Follow Ben Thompson on Twitter @fighthype ]