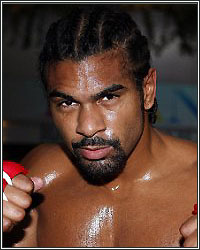 It's Monday. Welcome back for another edition of Observe and Fight, The Boxing Observer's compilation of observations and random thoughts from the week that was in boxing. Get caught up on some of the most recent events you may have missed out on, including a recap of the weekend in boxing, a wild heavyweight brawl not involving the Klitschkos, the Mayweather and Pacquiao promotional tours, and much more. Without further ado, check out the latest observations from The Boxing Observer.


Boxing is back in full swing and I, for one, am thankful as ever! 5 networks (ESPN2, Showtime, Epix, Fox Deportes, and Telefutura) aired boxing programming this past weekend and boxing fans were treated to some excellent scraps as a result. Mike Dallas Jr., Thomas Dulorme, Paul Williams, Tavoris Cloud, Gabriel Campillo, Chris Arreola, Pablo Cesar Cano, Fernando Guerrero, and Abner Cotto were just a few of the names to take center stage on the small screen. While not all fights delivered high-quality action, there was plenty of entertaining boxing to satisfy the hunger of even the most fickle fight fans. This past weekend signified the start of a full slate of boxing in 2012, and this scribe could not be more pleased.


Where to start, where to start? How about showing the heavyweight division some love for once? Dereck Chisora put up an admirable fight in defeat against Vitali Klitschko, landing 45% of his punches. It was the first sign in years exposing the potential decline of the Klitschko boys. But the most interesting fight happened after the championship defense, during the post-fight press conference. In case you have been living under a rock, Chisora and David Haye got into a shouting match that resulted in a full-on brawl. During the brawl, Haye picked up a video tripod and launched it at Chisora's entourage, somebody broke a glass bottle over the face of Haye's manager, Adam Booth, and Chisora threatened to "physically shoot" Haye and was arrested by German police. I've heard of hyping up a fight, but this is ridiculous. The brawl was clearly not staged and onlookers were understandably shocked by the actions that occurred before their very eyes. I'm just glad to see the "retired" Haye still has more fight left in him. He threw more punches in the brawl with Chisora than he did the entire fight with Wladimir Klitschko. Glad to see his toe is okay. I was really worried, but clearly it wasn't career-threatening like most thought. After all, wasn't it his broken pinkie toe that sent him into retirement in the first place?


Tavoris Cloud received a gift from above in retaining his IBF light heavyweight title against Gabriel Campillo. No disrespect to Cloud because he is a great fighter, a good guy, and I'm sure had nothing to do with the scoring, but he was flat-out dominated in that fight after the 1st round. I thought he was going to have an easy night after knocking Campillo down twice in the 1st, but the Spaniard outclassed "Thunder" Cloud from then on. I had Campillo winning 8 rounds to 4 (being generous to Cloud in one of the rounds). That would make the score 114-112 in favor of Campillo. Anyone who gave more than 4 rounds to Cloud is crazy. I believe the split decision victory for Cloud was worse than the victory Paul Williams stole from Erislandy Lara. Gabriel Campillo should be the champion. PERIOD!


Speaking of Paul Williams. The "Punisher" had himself a nice little comeback fight, easily outpointing Nobuhiro Ishida. Williams controlled the action and proved he still has some juice left in the tank, but let's not get ahead of ourselves and think Williams is back in the Top 20 pound-for-pound discussion. P-Will is still the same fighter we saw against Sergio Martinez and Lara. All he proved is he could still take a solid punch. He made no adjustments in his defense and took some unnecessary punishment. I will watch Paul Williams fight 365 days a year if I had a choice, but let's just accept him for what he is: an entertaining, fan-friendly fighter who is fun to watch and gives everyone a tough fight. He will never be a ring technician with the ability to beat some of the sport's best "boxers."


Does anyone else think it's a coincidence that Mayweather and Cotto announced the promotional tour dates for their fight May 5th just one day after Pacquiao and Bradley announced their promotional tour dates for June 9th? The Top Rank/Golden Boy feud is like watching an episode of Mean Girls. I'm waiting for Bob Arum and Richard Schaefer to start pulling each other's hair because they are fighting over the star quarterback.


Kudos to Showtime and to new head man Stephen Espinoza for making Saturday night's telecast very fan-friendly. From the opening bell on Showtime Extreme to the Showtime Championship Boxing telecast, Barry Tompkins, Steve Farhood, Jim Gray, Gus Johnson, Al Bernstein, Antonio Tarver, Jimmy Lennon Jr., and even Chuck Giampa all earned their pay. The telecast ran as smoothly as one could have hoped. I loved the Twitter drop-ins from fans and the Facebook polling as well. It made the show about as interactive as it could possibly be, this side of telling the fighters what punches to throw. Also, I have to give special recognition to Jim Gray. As much as I think he is unprofessional at times, the way he handled the post-fight interview with Chris Arreola was first class. Arreola had his normal post-fight interview with a few swear words, but when he called Don King a "Fucking Asshole," Gray immediately pulled the mic away and ended the interview. No matter what goes on behind closed doors, a fighter needs to remain classy and in control. Arreola went too far with who knows how many kids watching and Gray showed a great deal of professionalism. Nicely done sir.


And speaking of Chris Arreola...other than his post-fight antics, he said the smartest thing he has ever stated in his professional career. He said he needs to relocate out of his hometown of Riverside, CA to focus solely on boxing because he doesn't trust himself anymore. Arreola, who has consistently struggled to keep his weight down, had a very focused and in-shape (at least in-shape by his standards) 2011. Arreola came in at 245 pounds Saturday night, the most he has weighed in over a year, for his 1st-round knockout of Eric Molina. I've been on the Arreola bandwagon since he rededicated himself to the craft, but when he came in looking a bit flabby and out of shape Saturday night, I started to second guess my decision. However, with Arreola publicly acknowledging his biggest issue, coming up with a solution, and the first signs of decline in the Klitschko brothers, I remain confident in saying that Chris Arreola will be the next American heavyweight champion.


Marcos Maidana and his advisor, Sebastian Contursi, should be ashamed of themselves. Early in the week, Contursi caused quite a stir with allegations of performance-enhancing drug use by Devon Alexander. The news came just a week and a half before this Saturday night's fight between Alexander and Maidana. When I pressed Contursi on a conference call about where he heard the rumors, he immediately went on the defensive and has still not answered any questions as to where the rumor started. I understand gamesmanship, but linking someone's name to PEDs with no concrete proof is a very dangerous game and one which should not be taken lightly. In this era, any athlete linked to PEDs loses all credibility, and I wouldn't be surprised if Team Alexander takes legal action on Team Maidana. Maidana and his people have never been known to poke the bear, but they went too far and I wouldn't blame Team Alexander one bit if they took this issue all the way to the courtroom.


Shadowed by all the big boxing we had this past weekend was news of a done deal for a fight between Brandon Rios and Yuriorkis Gamboa. I don't care about the details, the money, or the venue. I just know I'll be on my couch in front of the big screen on April 14th. This is definitely a can't miss event!


I have encouraged fans over the past few weeks to send in emails regarding certain boxing stories and you have responded in high demand. I will be featuring one email per week on Observe and Fight. This week's email comes from Jorge Z regarding the Alexander vs. Maidana and the hoopla surrounding the allegations made by Team Maidana:

"Who the hell is Cunningham trying to fool. This fight being 10 rounder only favors Alexander. This fight being Alexander hometown only favors Alexander! Maidana isn't going to get a ass whooping. The reason it's a ten round fight is because Alexander's people feel its easier to out point Maidana in 10 rounds than to risk Alexander getting tired in the championship rounds and Maidana knocking him out! For the the hardcore boxing fans this is some bullshit! Why would this be a 10 round fight by two proven fighters!"

To answer your question Jorge, the fight being 10 rounds does not favor Alexander by any means. The last fight between Matthysse and Alexander was 10 rounds and most thought Alexander lost that fight. The judges scorecards were all over the place and it wouldn't have mattered if the fight were 10 or 12 rounds. Each judge scored almost every round differently. If Maidana didn't want to fight in Alexander's hometown, he shouldn't have signed the contract. The reason it is a 10-round fight is because the WBC would not rate Maidana because he is a WBA fighter. Alexander is #2 in the WBC rankings. Had the WBC complied with Team Alexander's request, the fight would have been 12 rounds. Team Alexander did not want to pay the WBA sanctioning fees and would not agree to the fight being a WBA eliminator. Both sides played a part in the fight not being 12 rounds. As far as Maidana knocking Alexander out in the late rounds, only time will tell. Remember that both guys are making their debut at 147 pounds and it will be interesting to see if they can bring their power up with them. Either way, the classic boxer vs. brawler matchup should be entertaining as hell to watch.
That's all I've got for this week. Email any questions or comments to
dkassel@fighthype.com
and I will answer them throughout the week. Your email may be featured in the next "Observe and Fight." Be sure to "Like" The Boxing Observer on Facebook, and follow me on Twitter @BoxingObserver.
[ Follow David Kassel on Twitter @BoxingObserver ]