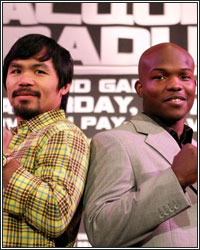 Once again, Manny Pacquiao will be facing a naturally bigger man when he steps into the ring on June 9th to face undefeated WBO jr. welterweight champion Timothy Bradley. Despite the fact that Bradley is the one who is moving up to the higher division, he's already walking around at a weight much higher than Pacquiao. "Fighting at 140, I do have to come down a little bit and lose a little strength in the fight, but I think now, fighting at 147 pounds," Bradley explained to the assembled media at today's press conference to announce the fight. "I think that I'm comfortable at that weight. I'm walking around right now 165 pounds right now."

Looking at the two fighters standing side by side during the face off, it was clear that Bradley is indeed the naturally bigger fighter. "I'm way bigger, man. I'm way bigger. Muscle density, just strong. You know, I mean, I know he checked me out," Bradley continued, recalling the first time the two men met face to face during their commercial shoot. "I know he sized me up yesterday, man, and he probably was looking for weaknesses, but I don't think he seen any."

Truth be told, when pictures first surfaced of Bradley doing a photo shoot for the promotion, many fans were surprised to see just how big he actually looked. It's unclear if Bradley has always been that big and simply cuts 25 pounds on the norm to make 140, or if he packed on a little extra muscle the past couple of months anticipating his next fight being at welterweight. Of course, this won't be the first time that Pacquiao has faced an opponent who thought he was going to be the bigger, stronger man on fight night, the only time when it counts.
[ Follow Ben Thompson on Twitter @fighthype ]