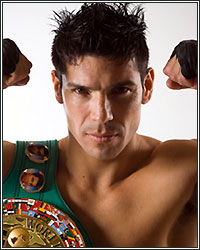 It's Monday. Welcome back for another edition of Observe and Fight, The Boxing Observer's compilation of observations and random thoughts from the week that was in boxing. Get caught up on some of the most recent events you may have missed out on including Sergio Martinez's latest triumph, HBO's aging broadcast team, Top Rank's mastery of the marketing world, and much more. Without further ado, check out the latest observations from The Boxing Observer.


Would Sergio Martinez really have to "kill himself" to make 150 pounds? I'm hearing all these things about Martinez barely being able to make 160 pounds. He came to the weigh-in at 157 pounds Friday for his title defense Saturday night. According to Martinez's Promoter, Lou Dibella, "Maravilla" came into fight week weighing 154 pounds and was eating meat and potatoes during fight week because his weight was so low. If that is truly the case, why is it that Martinez would have trouble getting down to 150 pounds? As early as 2009, Martinez was still fighting at 154. I figure that Martinez probably walks around at 160, the current middleweight limit. If you're telling me that he can't lose approximately 10 pounds over the course of an 8-week training camp, I call shenanigans.


With all that said, if Floyd Mayweather were to accept Martinez's challenge, the fight should take place at 154 pounds. Martinez can give Mayweather an 80/20 split, can agree to Olympic-style drug testing, and can agree to use 8-oz gloves, but Martinez should not give in to the weight demand. Mayweather clearly does not have any trouble fighting Miguel Cotto at 154. Mayweather has consistently stated that he wants his opponents to be at full strength, unlike Manny Pacquiao, and would not request a catchweight with Cotto. Well Mr. Mayweather, if Martinez is your next opponent, it's 154-lbs or bust. You tell everyone you want to fight the best...here is your chance!


It's time for Larry Merchant to hang up the microphone and call it a day. It feels like Merchant has been around boxing since Jack Johnson was heavyweight champion, and he is becoming one of those miserable old guys that says anything on their minds. You know the kind of senior citizens I'm talking about; they go to restaurants, will say anything to the service staff, no matter how offensive, drive 20 MPH under the speed limit taking up two lanes, and take 30 seconds to finish a 15-word sentence. Merchant is truly a knowledgeable boxing authority, but his speech is slowed, his eyes are not as sharp as they used to be, and his disgust for certain fighters shows in a very unprofessional manner. It's time for Merchant to pass the torch to Max Kellerman and phase his way off of the HBO Boxing broadcast team. Speaking of guys needing to retire from HBO's boxing broadcast team, Harold Lederman. In my opinion, Lederman just doesn't see fights the way he used to.


Top Rank did a great job pulling a rabbit out of its hat after Yuriorkis Gamboa pulled out of the Brandon Rios fight. Bob Arum has done it again. He has turned chicken shit into chicken salad in a matter of moments. After Gamboa pulled out of the HBO televised fight with Rios, Top Rank was left scrambling to find an opponent for "Bam-Bam." In comes Richard Abril, another Cuban who coincidentally showed up to the press conference in Miami and started a scuffle with Rios. On top of that, Juan Manuel Marquez, a proven ratings draw, will headline the co-main event from a split site in Mexico and the fight card will now be broadcast on pay-per-view and should do at least 150,000 buys. With Marquez's following and Rios' exciting style, Top Rank is putting on a highly entertaining, low-risk PPV card for two of its bigger draws. Even better for the BobFather, he can now match Marquez and Rios on PPV later this year and make another killer payday.


Amir Khan is on his way to becoming the next David Haye...and not in a good way. I am sick and freaking tired of hearing Amir Khan whine and argue that he beat Lamont Peterson and was robbed by the referee, and the judges, and the man in the secret hat, and the IBF, and the WBA, and the entire city of Washington D.C., and Barack Obama, and March Madness, and American Revolution, and....well, I think you get my point. Khan has had every excuse in the book, much like he did when he got knocked out by Breidis Prescott. Amir Khan needs to man up, give Peterson his just due, take the loss like a man, and seize the 2nd-chance opportunity he is getting in the rematch. Not every fighter gets a chance to redeem himself immediately after a loss. Khan needs quit talking and start training. He is quickly becoming about as unlikable as fellow British countryman David "The ToeMaker" Haye.


Devon Alexander should fight Kell Brook in a welterweight showdown. Brook has been clamoring for a British mega-fight with Khan, but has also stated his desire to become a known commodity in America at the welterweight division. Brook is rated as a top-10 welterweight in most ratings, and though Alexander is coming off of a spectacular performance in his welterweight debut against junior welterweight champion, Marcos Maidana, some are still questioning whether Alexander can perform as well against a "true" welterweight. The winner would immediately put himself in the mix for a fight against Mayweather or Pacquiao with a strong performance. Brook is looking for name recognition in America and could get that, and more, with a victory against arguably the welterweight with most momentum thus far in 2012. If Alexander were to win, a fight with one of the big two is mere moments away. It's high risk, high reward for both fighters.


Roy Jones Jr.'s debut as a cornerman was successful, but he is not a future trainer. In case you missed ESPN Friday Night Fights this past Friday, former world titlist Kendall Holt dominated Tim Coleman via 2nd-round TKO. While the fight was nothing to write home about, the biggest storyline was that Holt had Roy Jones Jr. working his corner as a cornerman. Some may wonder if Jones, the former pound-for-pound king, is considering a move to training fighters after his fighting career is "officially" through. I say it's a bad idea. Think back in history and look at all sports. Athletes considered at the top of the sport, who come back to coach, have rarely been successful. Larry Bird was a terrible basketball coach. Wayne Gretzky didn't cut it as a hockey coach. Diego Maradona was not a great soccer coach. Isiah Thomas in basketball, Bart Starr in football, the list goes on and on. While there have been a few great players who have made great coaches, the majority are not successful. I believe the biggest reason for this is because those great players have difficulty coaching someone who is not as talented as they once were and cannot perform to the same ability. It's okay to expect a lot from players, but not every player or athlete is gifted.


The Dewey Bozella story on ESPN was an excellent documentary! I did not realize all Bozella went through to get out of prison, and then just to get his boxing license to fight one time. If you missed it, set your DVR to record the next time it is on. A must-see that may leave you tearing up at the end.


Every week, I will feature an email by a fan on Observe and Fight. This week's email comes from Freeman T. about leaving Bernard Hopkins off my "elite fighters" list last week...


"How can a champion in any weight class be other than an elite fighter? His performance against Pascal in the rematch rivals any performance of any current fighter. I'm not talking about a paper champion. I'm talking about a recognized champion. What makes an elite fighter to you? All champions are in the elite class in my opinion."


Freeman, you just said any champion is elite to you, but then in the next sentence you say "I'm not talking about paper champions." Which one is it? What about the Chad Dawson fight? I know it only went 2 rounds, but Dawson looked like he was cruising. Pascal, in my opinion, is overrated. I don't consider a fighter who is 6-3-1 with 1 no contest in his last 11 fights elite anymore. When Hopkins defended the title 20 times in a row, he was most definitely elite. But that was then, and this is now. For a fighter to currently be elite, he would have had to win, and continued to win, against the best competition presently. Hopkins doesn't do that anymore, nor do I think he will beat Dawson in the rematch.

That's all I've got for this week. Email any questions or comments to
dkassel@fighthype.com
and I will answer them throughout the week. Your email may be featured in the next "Observe and Fight." Be sure to "Like" The Boxing Observer on Facebook, and follow me on Twitter @BoxingObserver.
[ Follow David Kassel on Twitter @BoxingObserver ]