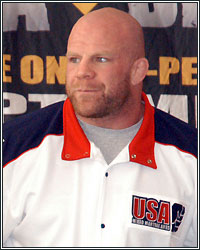 "The ones I've signed for are Ricco Rodriguez, Kevin Randleman June 21st, I'm fighting Brad Imes May 17th and I'm fighting Paul Buentello May 31st," stated MMA heavyweight contender Jeff Monson as he talked about all the fights he has signed and lined up. Check out what he had to say about each of his upcoming opponents and you don't want to miss his thoughts on Kimbo Slice, Brock Lesnar, Ken Shamrock, Antonio Noguiera, Tim Sylvia, Fedor Emelianenko and Randy Couture.

PC: How have you been doing Jeff?

JM: Everything is going good. I'm training hard and everything is good.

PC: You always seem to be rumored to fight someone. You were mentioned as Fedor's first M-1 fight and now I hear you may be fighting Kevin Randleman. What is your fight schedule looking like?

JM: The ones I've signed for are Ricco Rodriguez, Kevin Randleman June 21st, I'm fighting Brad Imes May 17th and I'm fighting Paul Buentello May 31st. I have a couple lined up.

PC: Those are some pretty respectable names in mixed martial arts to have in a row like that. Which fight do you think will present the biggest problem for you style-wise?

JM: Well, they're all so different. Brad Imes is this tall and lanky guy and I've had problems with that before. Randleman is obviously a great wrestler and then I have to face a complete stand-up guy in Buentello. I will definitely have to train differently for each one and they're all pretty close so it's going to be difficult. I don't think either one is necessarily tougher than the other. I just think they all have completely different styles.

PC: What do you think of Kimbo Slice and Brock Lesnar as fighters and would you be interested in training with or fighting either guy?

JM: To be honest, Kimbo Slice, at this point, is like a semi-pro. He hasn't fought anybody. He's fought a couple of underground fights and basically promoted himself and good for him, you know? He's making money. He's made more money than I've ever made in it and hasn't fought anybody so good for him. I just think I don't want to say legitimate fighter, but I think I'll just say semi-pro. I think Brock Lesnar is going to be a tough guy. I don't think people realize how tough it is to be a dominant wrestler and his last couple of years of college, he was dominant and nobody could touch him at a real high level. I think you have to forget about the WWF stuff. He's a big tough guy and I think it's going to be a matter of how tough he wants to be. If he trains real hard and gets his ground game good, he has the physical attributes that he needs to be on top of the game. He just needs to get the technique stuff down and he'll be real tough.

PC: I think you have some of the tools Lesnar is lacking. Is he someone you would be interested in taking under your wing?

JM: Yeah, I mean, I wouldn't mind training with him. I always like to get something out of it and I think it would be good to train with him. I think we would be good training together. He comes from a wrestling background and I think I can help him a lot. He would be a great training partner, of course, with just his physical attributes. I think he just needs to relax on the top a little bit and work a couple of things, but he would be a tough fight; a real tough fight.

PC: Watching Ken Shamrock's recent performances, do you think he should start contributing to the sport in other ways than competing?

JM: He's always got a name so he'll always going to get fights, but each person has to decide for themselves when enough is enough. You will have fans that will say, "You have nothing left to give." He's a tough guy, he has some submissions and he can beat some people on any given day, but at that point, you have to pick your opponents a little more carefully and pick a guy that fits your style. For someone to say he's in his prime is just not true. It's a matter of how do you want to go out. Do you want people to remember the prime Ken Shamrock or the guy that's just trying to hold on? When I'm done, it's going to be when I'm not the best I can be anymore. I don't want to make a payday or fight a guy that matches up good for me just to get a win. I'm 37, but I'm not too beat up. I'm getting better and as long as I'm getting better, I will stay around. My boxing is getting better and in sparring, I may not be as fast as I used to be, but I make up for it in other ways. As long as I can be the 100% Jeff Monson out there and people are not saying, "Wow, he was better 2 years ago;" then I'll stop competing, but I won't just take a payday to beat a guy that, even if I win, it was just to do it. The only reason I do it is to be the best and if I can't do that, I'll retire.

PC: You won 15 fights in a row to get the title shot at Sylvia. You lost that fight and we haven't seen you in the UFC since. Are you surprised they haven't called you up?

JM: It's a scenario where I thought I was going to fight Fedor and they were nice enough to let me out and it didn't happen. I had a couple of other fights and now I have a couple of other fights lined up and they're booked through for a few months so it doesn't make sense for me to cancel those and try to get them to add me on and stuff like that. We still have a good relationship and I'll be back in there at some point. It just has to be the right situation for them and me. I see some fights and some guys in these fights and I'm like, "Oh my god." I won't name any names, but I'm sure you know the ones I'm talking about. Tim fought a really smart fight against me and I fought a not so smart fight against him. He won and he was the better guy that day by far. There are some guys that I would definitely like to fight and maybe one day, I will have an opening and hopefully they'll have an opening and we can make it happen.

PC: Did you see the fight between Nogueira and Sylvia and if so, what did you think of the performances?

JM: I saw it and I think Tim showed he was a tough guy. He was obviously winning the fight; cruising really, but Nogueira has been in a million wars man and he just knows how to win and he's got great submissions. He and Barnett are probably the 2 best submission fighters out there. He proved it when he caught Tim in something and he's a tough guy to knock out. I don't think he's ever been knocked out. He always catches you and he's a tough guy. It was 2 tough guys going at it and everybody witnessed that. Tim should get his props too. I know everybody is always down on him for not being this or that, but I think he's an exciting fighter. He does what he can to win the fight and he just fought a tough guy that day.

PC: They have so many different organizations coming up with the popularity of the sport. Do you think that's good for the sport?

JM: I think it's great for the sport. As good as the UFC has been, and they've done by far the most for the sport with The Ultimate Fighter show, promoting the guys and making them celebrities; that kind of thing is definitely promoting the sport. The thing is, without Pride being around, you basically had one organization controlling everything. They controlled salary and who gets in and who gets out. If you're not in the UFC, nobody sees you. Some of the new promotions are starting to get on TV, but you still want to be in the UFC; they're definitely the head of the heap, but as far as the fighters having other opportunities to make money and have a living…I quit my job a few years ago to try and make it as a fighter and there was no way, unless you were one of the top 2 or 3 guys in that weight class, you wouldn't be able to do it. Now it's different and with other organizations, if you're a good fighter and win matchups, you can survive and do it. You don't have to have a full time job. That's not the case for everybody, but at least more opportunities are opening up and that's better for the sport and that's how you have to look at it. This isn't about the UFC or King of the Cage, it's about the sport itself and growing the sport. We have to do what's best for the sport and not for any individual organization. It's definitely better for the sport.

PC: Do you still consider Fedor the number 1 fighter in the world or has someone surpassed him in your eyes?

JM: No, I think he is. He's never really lost. It's just because he hasn't been as active and you know, when people say he hasn't been active, that's not completely true. He just won another Sambo championship and I know that's not MMA, but I think it's one of those out of sight, out of mind kind of things, but it doesn't mean you are still not the best, you know? He's beat everybody and I know a lot of people want to see him fight Randy, but if you look at the records and history, he's the best.

PC: Were you surprised at how Randy left the UFC?

JM: I think some guys…I don't know the whole story and honestly, I try not to get into any of that. I just think when people reach a certain level, they think they're worth a lot and they just want a lot and they think they deserve a lot. I don't know. I'm not going to say too much on that. I'm not surprised he left, I just think there's a lot of fighters out there that leave the UFC, but one fighter doesn't make the UFC. I don't know, I just think there should be a union or something and have a minimum of how much a fighter could get paid and insurance. I still got bills from the Pedro Rizzo fight from getting brain scans and stitches that I'm still paying on. If you have a job like fighters do to where you're putting your well-being on the line and your career on the line, to not have insurance is crazy. Some of these guys are fighting on PPV for 2 grand and they have to pay all of their own medicals, scans and blood work, just to fight; it's crazy. That's just my opinion, but then you have some people asking for millions and millions to fight and that's crazy too.

PC: Jeff, thanks for your time. You are always honest and I wish you luck in all of your fights. Is there anything you want to say in closing?

JM: I just want to appreciate all of the fans for all of their support. We couldn't do it without their support and I know a lot of people say that, but I really mean it. You come out to the mall and stuff and a lot of people support you and not just watching it, but talking about it and joining grappling clubs and this and that and that's what's making the sport grow and we're able to make a living out of it and make the sport grow because people are showing an interest in it. I really appreciate that.
[ Follow Percy Crawford on Twitter @MrFighthype ]