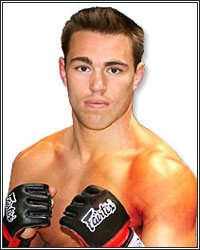 FightHype.com recently caught up with Pro Elite XC welterweight Jake Shields to discuss his recent K-1 "Dynamite" win over Ido Pariente, his eagerness to face Frank Trigg, his future plans and much more.

PC: How have you been doing Jake?

JS: I've been good, you know? I've just been hanging out after my last fight and doing a little bit of partying, but it's about time to get back into training now.

PC: Congratulations on your last win at K-1 "Dynamite". How do you grade your performance?

JS: I can't really complain about it. It went exactly the way I wanted it to, so there's really nothing bad to say. I came in and I would've liked a little more stand up with him, but I was able to take him down pretty fast and submit him. I'm happy.

PC: I know you've been working on your boxing and would've liked to show that off. Can we expect you to stand more during future fights?

JS: Definitely. I still feel like I'm more of a grappler than a boxer or a kickboxer, but I'm trying to round my game out. When you work on something, you start wanting to do it and I haven't really had a chance to kickbox yet or anything, so it would be cool to get in there and bang a little more in my fights.

PC: I know fighters put in long hours training. Do you hate for a fight to end in 2 minutes like your last fight with Ido Pariente or would you prefer to get them out of there?

JS: A little of both. It's nice just to end a fight and it's done with no damage, but when you put in so much training and it ends so fast, could be a little bit disappointing too.

PC: What was your gameplan going into the Pariente fight?

JS: I was thinking I was going to strike with him because I heard he was a brown belt in Jiu Jitsu, but once I got to the show in LA, everybody started telling me he was a really good kickboxer, so I kind of changed my gameplan last minute. I wanted to just take him down and submit him.

PC: On that same card, a couple of fighters tested positive for different things. What are your thoughts on all of the positive testing in MMA lately?

JS: I think it's just that they're testing a lot more fighters and things are coming up, you know? Who knows exactly what's going on? Some people are saying false positives; I'm not exactly sure. I don't know too much about that. I was a little surprised to see people test positive for cocaine. I didn't know people were doing that in fighting; it seems a little weird. It doesn't seem like something people would want to fight on, but apparently people do. They must be doing it the night before or something and that seems a little strange to me.

PC: What drew you to Pro Elite and how many fights do you have left under contract with them?

JS: I have 2 more fights under contract with them, but I also can fight under other shows is the way we drew the contract up. I went with Pro Elite for several reasons. It's good exposure with Showtime, it's a good show, the money is always a factor and they offered me pretty good money and I had also worked with JD Penn and Rich before at Rumble at the Rock and they're involved with Pro Elite and they always treat me good out there, so I had to keep working with them.

PC: You've been involved in MMA for a while now. With all the negative attention the sport received early on, are you surprised with the growth of it today?

JS: Actually I am. It's like you said, it was so much negative around it with everyone calling it "human cockfighting" and all that. The politicians were against it and really a lot of people didn't watch it. It surprised me before how no one watched it because it was so exciting. I thought that the sport would grow eventually, but it grew faster than I expected it to. I thought maybe 10 years down the road we would start seeing this kind of growth because it is so exciting; at least I hoped it would grow, but I didn't know if it would or not. Just the way it exploded was awesome.

PC: You're riding a 7 fight winning streak. What would be ideal for you next?

JS: Ideal? I know I hope Pro Elite could get me Trigg. That's a guy I've wanted to fight for awhile. If I could just fight anybody I would love to fight Matt Hughes or George St. Pierre, but I know that's not too realistic for my next fight considering I'm with Pro Elite XC. As far as a realistic opponent, I would like to fight Frank Trigg!

PC: How is making the welterweight division treating you?

JS: It's not too bad. For my last few fights, I've been at 75 so it's not too bad of a cut to get down there. Once I cut my weight back down, I feel like I could make it pretty easy from now on. I had been lifting a lot of weights, so I had a little extra to drop, but I'm back right now.

PC: I know protein intake is very important for fighters. I think you're the only fighter I know that's a vegetarian. Is that tough for you?

JS: For me it's not tough because I've been a vegetarian my whole life. I just eat regular foods and I don't even think about it as a protein loss thing. I feel like I get plenty of protein. I feel healthy being a vegetarian so it's no reason to start eating it. People always say it's hard to gain muscle, but whenever I start to lift, I gain muscle pretty easy. I might throw down a few protein shakes, but never that much.

PC: Do you think with the UFC owning Pride and all the other organizations popping up that it would be tough to fight the other top welterweights in the world?

JS: It's hard to say, you know? Like I said, I have two more fights with Pro Elite and hopefully they will treat me good and get some of the UFC guys to come over and if not, I might have to go over there because I do want to fight the best. I just have to kind of just see where it takes place at.

PC: I know you and Nate Diaz are good friends. How proud are you for him for winning The Ultimate Fighter 5?

JS: I was really happy. I've been training with Nate since he was like 15, so he's like a little brother. I knew he was good, but he wasn't really known until recently. Everyone knew his brother Nick. I was proud to see him go out there and do so well. I know he's definitely happy.

PC: Would you like to fight again this year or are you looking to take the rest of the year off?

JS: I definitely want to fight again this year. I will probably fight in early September. Who knows, I may possibly get another one in after that if everything works out. I'm trying to stay busy right now. I've been healthy and I haven't been getting banged up in the fights, so I should stay active while I can.

PC: It was a pleasure speaking with you Jake. Anything you want to say in closing?

JS: I just want to thank my sponsors and my parents.
[ Follow Percy Crawford on Twitter @MrFighthype ]