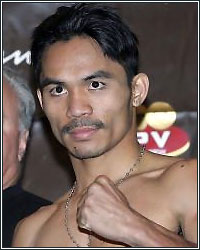 Few spectacles in sports can compare with the frightening exhilaration of witnessing a one punch knockout. For all the nuances and intricacies that a master practitioner of the Sweet Science can display in the ring, it is the knockout artist that sets the fans' hearts a flutter. Tonight, Major League Baseball will showcase their All-Star homerun derby. The overwhelming popularity that it enjoys is based on the ageless infatuation with athletic displays of power, but to be honest, hitting a ball out of the ballpark pales in comparison to the neurological scrambling of a skull-jarring punch. With that being said, I present to you the ten hardest punchers in boxing.


Edwin Valero (24-0, 24 KOs) - Knockout ratio: 100%
It's hard to argue the physical gifts of Edwin Valero when every one of his victories has come by way of knockout. That's an impressive feat when you factor in the fact that Valero is a 130-pound super featherweight. Despite his relative small stature, his fists pack so much TNT that, in light of his young career, "El Inca" holds the WBA title and is in talks to face pound-for-pound king Manny Pacquiao. It's a testament to Valero's highly-touted power as his technique can be described as face-first aggression.


Wladimir Klitschko (51-3, 45 KOs) - Knockout ratio: 90%
Aptly named "Dr. Steelhammer", Klitschko has left most of his opponents looking like horizontal paperweights due to the force of his concussive straight right hand. Standing nearly 6'7" tall and weighing over 240 pounds, Klitschko's body mirrors that of Adonis. It is with little wonder as to why 45 of Klitschko's 51 opponents have failed to make it to the final bell. Utilizing an almost mechanical technique, Klitschko's right hand shoots out like a telephone pole. For some prime examples of this vaulted right hand, see Klitschko's handiwork against Chris Byrd, Calvin Brock and most recently, Tony Thompson.


Kermit Cintron (29-2, 27 KOs) - Knockout ratio: 93.10%
If you were going to build a fighter capable of generating debilitating power punches, chances are you would mold them in the shape of Kermit Cintron. Built much like the great Tommy "The Hitman" Hearns, Cintron is a tall, broad-shouldered fighter. Those broad shoulders, which give Cintron the appearance of a praying mantis, are capable of generating tremendous torque, leaving the recipient of his punch counting the number of ceiling fixtures.


David Haye (21-1, 20 KOs) - Knockout ratio: 95.24%
Charismatic and cocky, it's a damn good thing that Haye has the power to back up his often braggart ways. Possessing a right hand that hits like a shotgun blast, it is of little wonder that all but one fighter has been laid out by the Londoner. After clearing out the cruiserweight division, Haye now plans on testing his ballyhooed power against the giants of the heavyweight division.


Kelly Pavlik (34-0, 30 KOs) - Knockout ratio: 88.24%
There's no denying that the undisputed middleweight champion has concussive power in both fists. Although he's not the flashiest boxer and his style seems to be methodical at times, it's clear that his mind is focused solely on knocking the other guy out. It is that single-minded focus that has led to some of Pavlik's highlight reel knockouts, stopping opponents like Jermain Taylor, Edison Miranda, Jose Luis Zertuche and Bronco McKart in devastating fashion.


James Kirkland (22-0, 19 KOs) - Knockout ratio: 86.36%
Line them up and Kirkland seems to knock them down. The Lone Star prospect has a punch that kicks like a mule. Fighting with an aggression that is a byproduct of his tumultuous life in the streets of east Austin, Kirkland pounces on his opponents like a man possessed. First round destructions of the likes of Allen Conyers and Ermosele Albert have fans salivating for more and opponents weary to face Kirkland.


Samuel Peter (30-1, 23 KOs) - Knockout ratio: 76.67%
Though the knockouts have trailed off a bit as the Nigerian Nightmare has tackled some of the more respected names in the heavyweight division, the fact remains that few fighters can hit with the concussive force of Peter. Thought crude at times in terms of technique, heaven forbid you get caught by one of his looping shots. The end result would probably feel like a sledgehammer slamming through plywood and I dare say that for 23 of Peter's opponents, that is exactly how they felt.


Daniel Ponce De Leon (34-2, 30 KOs) - Knockout ratio: 88.24%
To see De Leon box is to see the very definition of unorthodox. Any semblance to the Sweet Science is gone as De Leon stalks around the ring. But just as you mutter to yourself, "did this guy just come in from a Toughman competition," BOOM, a left hand is unfurled into the cranium of the unlucky adversary. The end result is a fighter laid out end ways and left contemplating to himself what just happened.


Rafael Marquez (37-5, 33 KOs) - Knockout ratio: 89.20%
Few participants in the art of boxing blend so perfectly the skills of a boxer with the power of a slugger quite like Rafael Marquez. The Mexico City badass seems to have cinder blocks tucked away in each fist as he fells one opponent after another. Oh, and if his awe-inspiring power doesn't get the opponent out of there, then his heart, determination and boxing skills will see him through to victory.


Manny Pacquiao (47-3-2, 35 KOs) - Knockout ratio: 74.50%
In physics, the formula for force is mass times acceleration and no other fighter embodies that quite like Manny Pacquiao. The diminutive fighter with the megawatt smile cuts through his opponents like a buzzsaw. The whirling dervish of flying leather also packs a punch in the form of a short straight left hand that has left some of boxing's greatest warriors on their backs. Possessing raw aggression and uncanny hand speed, it's understandable as to why fighters have found themselves swallowed up by Pacman's assaults.