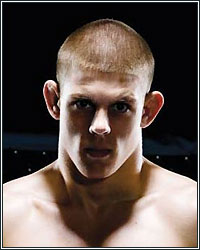 In a relatively short period, 24-year-old Joe "J-Lau" Lauzon has gone from computer geek to starring on The Ultimate Fighter 5 television reality show, upsetting a former world mixed-martial-arts champ, and then headlining UFC Fight Night 13.

Not too shabby for the nerd-looking but fearless fighting lightweight contender who has a Bachelor's degree in computer networking from Wentworth Institute of Technology in Boston. Two years ago, he was fighting part-time and working full-time at Charles River Analytics in Cambridge (MA), where he was responsible for maintaining a 130-computer network.

Now, Brazilian Jiu-Jitsu specialist Lauzon (16-4, 3 KOs, 13 submissions) is currently preparing for his next fight, September 17 against Kyle Bradley (13-5) in UFC Fight Night 15, on Spike television live from Omaha, Nebraska.

"Every fighter will tell you that their next fight is the most important and that won't change here," Lauzon said. "Fighters can make or break their careers with a few good or bad fights, so I'm not going to let any fight slip by."

Born in Brockton, Massachusetts, known as the "City of Champions" because Hall of Fame boxers Rocky Marciano and Marvelous Marvin Hagler fought out of there, Lauzon fought on the relatively small New England circuit during the early part of his still young MMA career, earning 2004 Massachusetts Fighter of the Year honors.

In 2006, "J-Lau" won an 8-man tournament by defeating three fighters on one night in the World Fighting League, and he was crowned WFL Grand Prix champion. His impressive showing led to a UFC contract, although he believed that he'd lose his love of fighting if he became a fulltime fighter and it became a job.

His UFC debut was against former world light weight champion Jens "Little Evil" Pulver (21-7-1), who was a solid 7-1 favorite, in UFC 63 (September 23, 2006). Lauzon immediately took Pulver to the mat, but they got up and Joe rocked Pulver with a right knee, leading to a devastating left hook that dropped Pulver. A barrage followed and the referee halted the fight at 43 seconds of the opening round, marking Pulver's first UFC loss in eight fights.

"Going into the fight with Jens," Lauzon reflected, "I had all the upper tier fighters on his plateau and I thought that I was far off. Getting a big win like that let me know that I could compete at that level."

Lauzon's impressive performance led to him being cast on The Ultimate Fighter 5, where Joe met his new mentor and training partner, UFC lightweight champion BJ Penn, who was his coach on the television series. Joe won his first two fights in the series against a team coached, ironically, by Pulver, but Joe lost a decision to Manvel Gamburyan in the semifinals. In the finale, however, "J-Lau" beat Brandon Melendez by submission (triangle choke) at 2:09 of the second round.

"The Ultimate Fighter was great for me because it put me on television in front of everyone," Joe noted. "On the local level, MMA shows are filled by fighters selling tickets to their friends. The UFC has expanded that model by letting the world get to know fighters. You could fight a dozen times and still not have the same connection with people as you do when they see how you live for a month and a half.

After The Ultimate Fighter 5, Lauzon finally left his job at Charles River Analytics to become a fulltime MMA fighter, and took Penn up on his offer to train him, moving to Hawaii where one of his training partners was WEC featherweight champion Urijah Faber.

"Training with BJ was the best," Lauzon remarked. "You always try to have a worst case scenario opponent in mind while training and BJ is just that" world-class Jiu-Jitsu, great striking with heavy ands and a solid chin, as well as crazy flexibility and takedown defense. All of that is hard to come by in one person, but BJ brings it all, the complete package. I am fortunate enough to have worked with BJ and I realize how much further I can improve. I am back training in Bridgewater at my school for this fight, but I'm sure I will be training with BJ again in the future."

Last November, Joe defeated Jason Reinhardt by submission (rear naked choke) in the first round at UFC 78: Validation, setting up an All-Massachusetts showdown against Kenny Florian in the main event on UFC Fight Night 13 in Denver on April 2. The older, more experienced Florian registered a win by second-round TKO. "I learned from that fight that I need to pace myself better and not think that I have to go all out from bell to bell," Joe commented. "It was real tough in Colorado with the elevation. I tried to prepare for it but I didn't do enough. It was a costly lesson but one that I will never make again."

Lauzon, representing Lauzon MMA, has moved back to Massachusetts and he's living again in the town he grew-up in, East Bridgewater. Given his youth and talent, along with Penn possibly moving up to the welterweight division, "J-Lau" hopes to parlay an impressive win next month against Bradley into a top 10 ranking and eventually a UFC lightweight title shot in 2009.

For more information about Joe "J-Lau" Lauzon, go online to www.joelauzon.com or myspace.com/lauzonrsd.