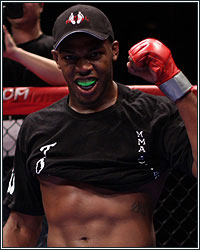 "I call my style of fighting look-see-do. If I can see it, I can try it. I pull off a lot of stuff that I see so what's going to separate me and hopefully move me up the ladder is my unique style," stated UFC up-and-coming light heavyweight Jon Jones as he talked about his style and what makes him unique. Check out what else he had to say about his recent win over Andre Gusmao, his future plans and more.

PC: Congrats on your UFC debut victory against Andre Gusmao.

JJ: Thank you very much.

PC: How do you feel about your performance?

JJ: I thought it went really well. Andre was the toughest guy I have ever fought and to win by unanimous decision in my debut was great.

PC: Did you know a lot about Gusmao going into that fight?

JJ: I didn't know much at all. He had some YouTube videos and I was able to see his athleticism. He is a Capoeira instructor and on the videos, I could just see how athletic this kid was and I knew he was trained by Renzo Gracie so I knew his Jiu Jitsu wasn't going to be a slouch either; I knew it would be top notch. I didn't really know too much except that he had great Jiu Jitsu and that he was athletic.

PC: Joe Cavallaro with the WCF recently sent out a congratulations press release to you. A lot of people wondered where you came from. Give us some background of how you fought in the WCF and other organizations and eventually landed in the UFC?

JJ: Originally, I was born and raised in Rochester, which is a pretty rough area to grow up in. I started wrestling in middle school and in high school and I really came out of nowhere. I have been studying the sport a lot since I've been into it and as far as the WCF, my manager Gary found those guys and hooked me up with a fight there and I have been doing it ever since.

PC: How did getting that experience in the smaller shows prepare you for the UFC?

JJ: Fighting in the smaller shows really helped me out a lot. I had 6 pro fights before I made it to the UFC and I've had some pretty fast fights in my career, but even the fast ones you learn something new about yourself. You learn about your striking, how to take a punch and how different people react to different situations so fighting in the WCF and other shows definitely prepared me for the big stage. It helped me prepare for getting used to the crowd, people screaming out stuff and how to control your nerves. The small shows definitely helped me get to where I'm at now. I appreciate all of them that ever signed me.

PC: A lot of new fighters let their nerves and emotions get the best of them. How did you cope with that going into your UFC debut?

JJ: When it comes to nerves, I'm a religious guy. I'm a Christian and a lot of my attitude and my confidence comes from me being a Christian. When I'm out there, I know that God is on my side and he's going to protect me and that he's not going to let anything too serious happen to me out there. I go out there and throw my hands and not really worry about what's going to happen to me. When the adrenaline kicks in, you don't really feel too much anyway. Like I said, in high school, I was a state champion wrestler and in college, I was a national champion so I've always been in tournaments and in the spotlight of that sport. I've learned to block out performing in front of thousands of people throughout my years of competing. I block out everyone else except the man that's standing right in front of me.

PC: All of your fights have been in 2008. Would you like to fight one more time this year or are you good until '09?

JJ: I would love to sneak another fight in this year. I was offered a fight for the last UFC (88) right after 87 and at the time, my body wasn't 100% for me to train all out for another fight, but I wish I would've took the fight because right now, I feel great. I healed a lot faster than I thought I would heal. If they could get me in at 89 or 90, I would take it in a heartbeat.

PC: You're a young prospect in a stacked division. What do you feel you have to do to separate yourself from the rest of the prospects in the division?

JJ: I'm 6'4" so I'm pretty thin. My biggest focus right now is physical fitness and becoming a stronger person. I ran into a couple of fighters at UFC 87 and these boys are big. These guys cut from 225-230 and when I'm not fighting, I walk around at 210. I want to bulk up a little bit too, at least 220, and continue to be a unique fighter. I call my style of fighting look-see-do. If I can see it, I can try it. I pull off a lot of stuff that I see so what's going to separate me and hopefully move me up the ladder is my unique style. I definitely want to become more physically strong.

PC: I appreciate your time Jon. I look forward to watching you progress in the UFC. Is there anything you want to say in closing?

JJ: I want to thank Dave at DG Sports Agency, Bomb Squad for being my team and I thank the Lord for putting me in this situation.
[ Follow Percy Crawford on Twitter @MrLouis1ana ]